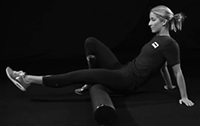 Welcome to the second installation of our four-part travel training series. This episode is designed specifically for the layover portion of your airline travel. In this video, we will cover five foam rolling exercises that will help you work out some of the kinks from your flight. I have chosen the following combinations to target the areas of your body most impacted from sitting in a compact airline seat for an extended period of time.
Based on your individual needs, I recommend spending 30 seconds to two minutes on each foam rolling exercise, focusing on the following areas:
Hamstrings
Quads
IT Bands
Thoracic Spine
Lats
Thank you for checking in, Bridge fans. Be sure to tune in next week for the third chapter in Nick's Travel Series. In case you missed it, here is the first episode of the travel sequence: Pre-Travel Stretches. Stay hydrated and safe travels.