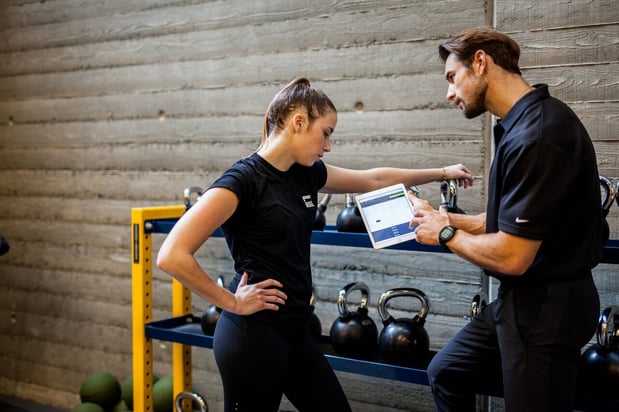 Testing your athletes is crucial to measuring the success of your strength program. While it can be time consuming and difficult to collect data and analyze your team's stats, the BridgeAthletic platform allows coaches to compile, organize, track, and examine your athlete's tests against each other and over time.
The Scorecard and Test History are two features allowing coaches and performance specialists to store, track, and compare athlete data. These features accompany features such as our Required Sets and instant 1RME calculations, to help you better monitor and evaluate the success of your team and your programming.
The Scorecard: Evaluating Multiple Exercises
You are most likely interested in measuring more than just one exercise to track your team's growth and improvement through the season. The BridgeAthletic Scorecard feature allows you to select the exercises you'd like to evaluate and compare them side-by-side to indicate which athletes are progressing across a variety of different movements and which athletes might need to focus on specific areas to further develop. For instance, say you are comparing your team's Barbell Deadlift, Barbell Back Squat, Chinups and Barbell Push Press (shown in Figure 1). While most of your athletes show progress across each exercise, 4 of your athletes show improvement in their Squat and Deadlifts but have not improved their Chinup reps or %1RME for Barbell Push Press.

Figure 1: The Scorecard
Now you can go back into your program to evaluate the volume and load of your program and how your athletes' results correspond to the content of your program.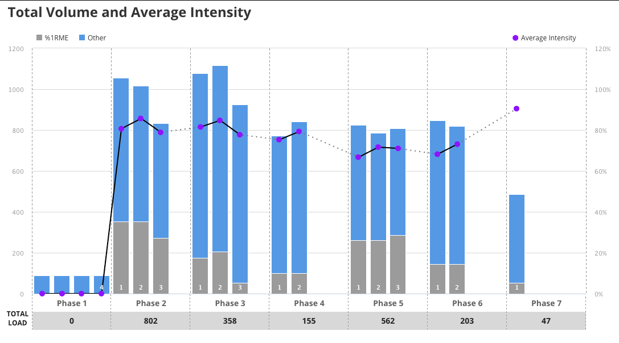 Figure 2: Program Analysis Charts
This quick visual comparison can prove essential for coaches with larger teams who struggle to monitor each athlete's performance and movements in person and need to track the progression and impact of the program.
Test History: Movement Analysis Overtime
The Test History feature allows you to compare your athletes' performance of one exercise over time. Meaning, you no longer need to input equations to, for instance, evaluate percent increases of max weight or other parameters across any time period. By viewing test data by each exercise, you can evaluate progress and also compare your athletes' performances to one another.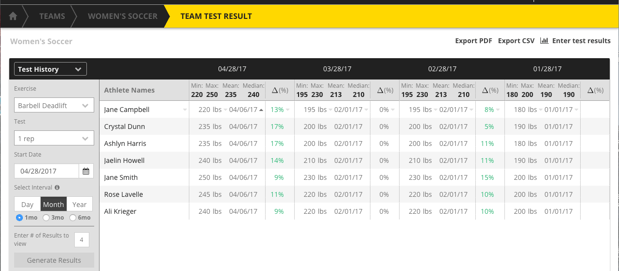 Figure 3: Test History
From the Test History page, you can easily export the data and share this information with your team to encourage and educate them as to why this level of training is crucial to their overall success as an athlete on and off the field.
Viewing your team's test history can help you determine what athletes are improving and which of those could benefit from further guidance and help. The BridgeAthletic Test History page allows you to easily view an individual athlete's past results to examine their progression throughout your assigned program and over the course of their career. For example, you might find it necessary to examine body weight over time as it compares to one athlete's Barbell Deadlift. You can quickly navigate from the team test page to the individual's Test History page and choose these indicators to view this particular athlete's progress.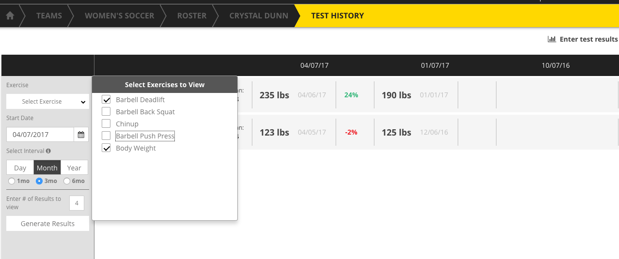 Figure 4: Individual Test History
From here, click on Barbell Deadlift or Body Weight to view a graph of that progression which you can then share with your athlete.
Figure 5: Individual Progress Chart
The Scorecard and Test History features allow you to track the progress of your athletes and that of your active programs as these features demonstrate team and individual successes and indicate areas for necessary improvements. No longer will you feel overwhelmed with data or spreadsheet equations as you can now seamlessly store and analyze realtime results with a few simple clicks.