This week we are back to a metabolic workout. The Warmup + Movement Prep are selected this week to prepare you for the metabolic block. Be sure to perform both exercises in the Movement Prep, especially the 3-Legged Downward Dog to warmup your hamstrings and lower-back.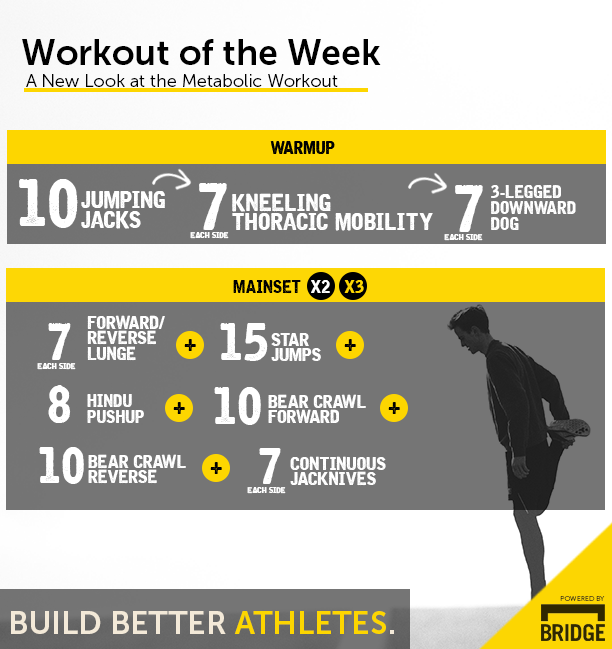 The goal of the workout is to go straight through the Metabolic block without any rest, with 20-30 seconds between rounds. You have the choice of either performing 2 or 3 rounds based on your current fitness level.
Tips:
Work on a short ground contact time on the Star Jumps, and get as high as you can on each jump with a soft landing. Keep the movement smooth and consistent on the Hinud Pushup. Keep your hips low on the Bear Crawls, espeically on the Reverse Crawls. Also, keep the Jacknives fluid and quick with full range of motion.
Warmup:

Jumping Jacks


Kneeling Thoracic Mobility

3-Legged Downward Dog
Mainset:
Forward/Reverse Lunge

Star Jumps

Hindu Pushup

Bear Crawl Forward

Bear Crawl Reverse
Continuous Jacknives

Be sure to check back next week for more workouts!