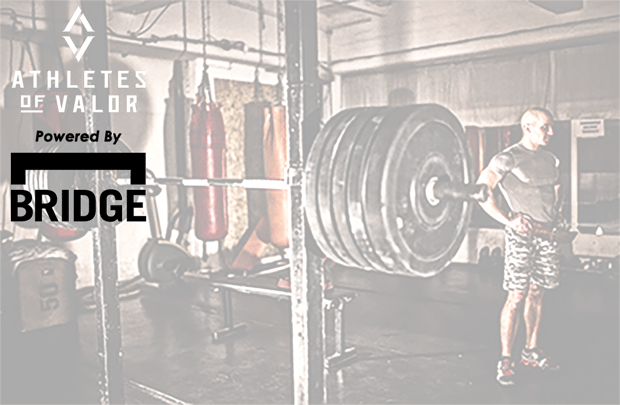 SAN FRANCISCO – BridgeAthletic and Athletes of Valor are excited to announce a partnership today to bring elite, sport-specific strength and skill training programs to servicemen and women transitioning out of the military and back into collegiate sports.
Athletes of Valor CEO, Alex Stone, praised the partnership as another step toward providing the best resources for veterans, saying, "Bringing elite strength training to these men and women who are looking to return to the sports arena will be a great resource for them to not only get into peak physical shape, but also to have tracked results to show their gains to coaches as they navigate the recruiting process."
The partnership will offer veterans working with Athletes of Valor the chance to sign up for a sport-specific training plan customized to their needs, training experience, and fitness level. Training plans are built by BridgeAthletic's Performance Team, made up of professional & collegiate strength coaches across sports. Michael Sharf, BridgeAthletic Co-Founder and CEO, was eager to work with Athletes of Valor, saying, "We are thrilled to provide training and resources to some of America's finest, folks who have sacrificed so much to serve and fight for our country. Helping these men and women transition successfully out of the military is incredibly important work, and we're excited to help Athletes of Valor with that mission. We have a tremendous amount of respect for Alex and his team."
To access these customized strength training programs, veterans can join the Athletes of Valor movement by signing up on the website. Individuals will be able to choose their sport and after an intro conversation with the Athletes of Valor performance staff, will be assigned a program to meet their needs.
About Athletes of Valor
Founded by military veterans and former collegiate athletes, Athletes of Valor's mission is to support transitioning servicemen and women from service to career by leveraging the power of collegiate sports. Their unique platform allows coaches, athletes, and corporate partners to find each other and connect. Learn more at http://www.athletesofvalor.com/ or follow on Facebook Twitter and Instagram.
About BridgeAthletic
BridgeAthletic builds high-performance training tools for coaches and athletes who compete at the highest levels. The integrated BridgeAthletic platform leverages the power of technology to revolutionize the way coaches create, deliver, and track athlete progress. With customized training programs delivered directly to their smart phone or tablet, athletes train smarter, power through plateaus, and perform better come game time.