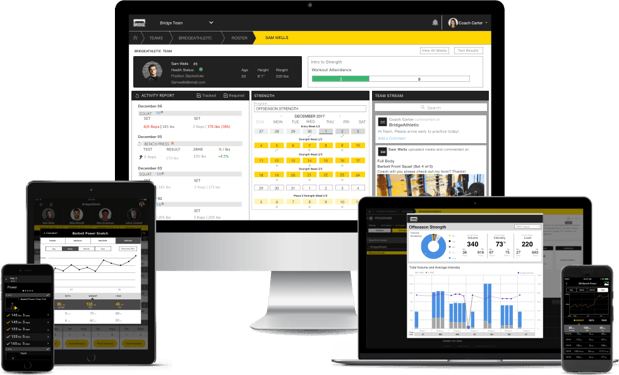 Coaches straddle two worlds when it comes to elite athletics—coaching the sport they love and managing the administrative tasks associated with being part of a greater athletic department. Communication within the athletic department can be far from easy. We're here to help you navigate best practices in communication so you can set your sights on training, competition, and winning national titles.

Why it's Necessary
Communication is essential because it helps everyone stay up-to-date on an athlete's needs and take the right next steps to help them reach their goals. From coaches to sports medicine staff to athletic directors, open communication keeps teams organized and resolves many issues before they turn into bigger problems.
Communication is difficult because there are a lot of people involved and there simply is so much going on. How do you get the athlete, assistant coach, head coach, trainer, doctor, physical therapist, and athletic department staff on the same page? By establishing a connection in person and staying consistent with your updates via written communication and meetings. Communication of this scale requires an organized infrastructure, meaning there need to be established channels for people to communicate regularly, as well as an open environment in which staff make themselves approachable for impromptu conversations to deal with unexpected situations. BridgeAthletic app.
How the Best Programs Communicate
Doing it Well: Some elite organizations we work with have excellent channels for communication. They set up daily, weekly, and seasonal meetings with the appropriate staff. For example, a weekly meeting with the coach, athletic trainer in sports medicine, and strength coach can be organized to discuss any current injuries on the team or any training-related updates. This ensures that the people involved in the training and care of the athlete are on the same page so the athlete doesn't get caught in the middle and do something misguided in practice. A system as simple as coaches messaging trainers, and vice versa, when pain or injury occurs or when there is a marked change in training is incredibly beneficial for athletes. This is just one example, but regular contact like this sets a precedent that communication between all moving parts within a team is important. BridgeAthletic allows coaches to do this on daily basis and connect with each other at all times online. You can use Bridge to create your network and keep communication lines open.
Doing it Poorly: If an organization is communicating poorly, it usually means the staff only meets seasonally to report on athletes' progress, and it can take coaches hours to come up with the data points they want to review. This can waste time and de-incentivize people from wanting to meet at all. By meeting regularity, coaches and athletic department staff spend less time catching up on old news and can instead go quickly over that week's updates, comments, and concerns.
Take the Initiative
If you haven't done so already, establish a working relationship with the athletic trainer who treats your athletes and the strength coach who designs their strength and conditioning. Apart from you, these are the two people who work closely with your team, so meeting with them weekly should be a priority. Meet with the administrator assigned to your sport to establish a regular checkpoint with him or her, with the caveat that should any time-sensitive issue arise, he or she will be open to discuss the situation with the coaching staff directly.
Elite athletes are incredibly in touch with their training and performance. Their needs become more specific and extensive at the world-class level, and they will expect more real-time information to make those incremental improvements in their training that lead to peak performance. The best coaches will foster good communication with their peers to support their athletes in this endeavor.
Topics: Performance Trends, Competition