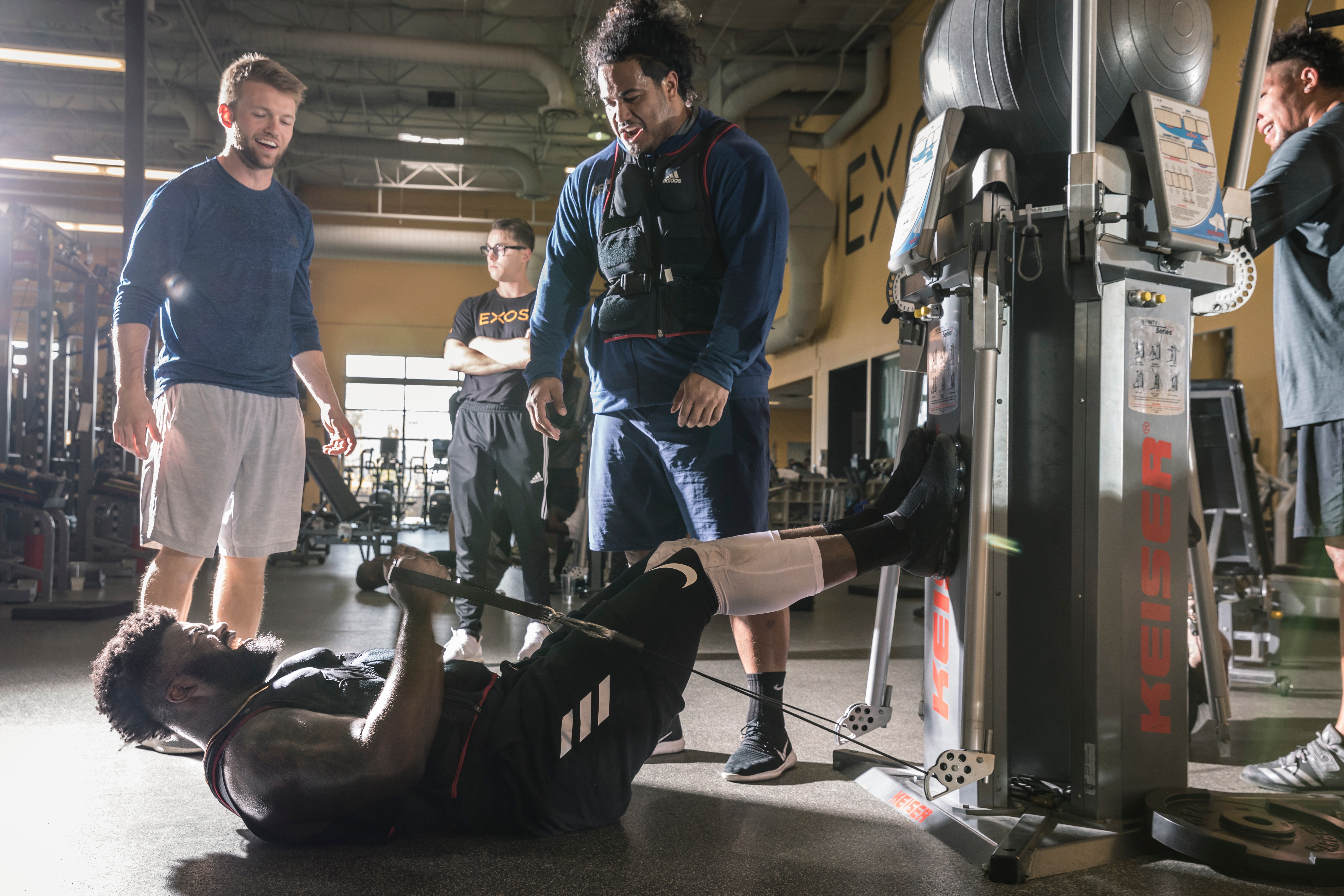 In our fifth episode, we caught up with Stefan Underwood and Jon Barlow from EXOS. Stefan is the Director of Continuous Improvement and Jon oversees the Pro and Elite Sports at EXOS Arizona.
From trialling new technologies to expanding on the value of education and the human-side to coaching, both Jon and Stefan present unique ways of improving player buy-in and creating a holistic path toward human performance.
Check out these spoilers….
Creating Solutions to Upgrade Lives
"We need holistic solutions. Whether you're talking pro, youth or corporate wellness we need holistic solutions to upgrade the lives of the people that we serve."
Operating in an organization that spans 500 sites globally can be a considerable challenge if you don't have the structure in place to support such a vast array of coaches and athletes. That's why EXOS is focused on serving the individual, providing everyone with the tools they need to succeed. Throughout the episode, Stefan and Jon emphasize the importance of being flexible and learning from the athlete just as often (maybe more) than you expect they will learn from you. Equipped with a best-in-class methodology, these coaches are able to think creatively to move towards a more holistic mentality to human performance.
Metrics Transcend Numbers
"The guys who are enthusiastic, who are on time and ready, they're the ones who are going to see results from the program. We have questionnaires and other metrics, but if they're not enjoying what they do everyday then we're not going to get much done in terms of the measured outcomes."
Both Jon and Stefan are focused on some of the more qualitative factors that create a successful program. As Jon states above, he's looking for ways to keep his athletes motivated and excited to get to the facility everyday. Similarly, Stefan considers engagement to be one of the fundamental drivers towards their own company's success. As he says, "Performance is incredibly personal... we want to create an engaging environment that they want to join."
Key Takeaways:
1. A commitment to education
A sense of responsibility that we're all in this together. But we also needed to get to a good place internally in order to grow...hone and enhance.
Creating a strong focus towards your methodology and structure will help your organization grow together. You should be prepared to evolve along the way but if you have a structure in place, you'll ensure that all members grow together.
2. Motivation through education
Here's a system that shouldn't handcuff you, but should be a tool box to help sort and organize the tools you already have and bring to the table as the professional you are.
Education can become a huge motivator for both your coaches and your athletes. Creating a consistent program that your athletes can rely on allows them to quickly adapt and learn from the process. They'll quickly start to understand what the components of the program are, allowing you to soon speak a similar language.
3. Training is a lot more accessible
If a drill is really flashy and looks cool, it doesn't' mean you shouldn't do it, you just shouldn't do it for very long.
Even the pros succumb to training trends. One of the more significant changes these coaches have seen recently is the impact of social media on their athlete's mindset. While some content can motivate, it often isn't painting the picture of the process. That's what these coaches are focused on confronting.
4. When remote training- reach out and reach out often
A well placed demo is one of the best coaching tips that you can have...all of a sudden we have videos even on the movements that I had assumed she understood.
These coaches are both focused on maintaining a human connection and balance between in-person connection and high-value technology to improve their workflows. When taking on remote training, be sure to reach out during the week- calling out milestones is a great touchpoint. But don't forget, remote training offers tremendous benefits for tracking your athletes to ensure they're performing movements correctly and progressing properly.
Thanks again to Jon & Stefan and the entire EXOS team for choosing Bridge to help power their performance!
Connect with EXOS
@TeamEXOS
@EXOSEDU
@EXOSsports
Topics: Performance Trends, Sports Technology, Coaching Tips, Powering Performance