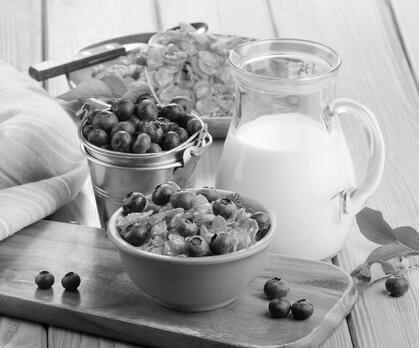 We've all heard it: "Eat your breakfast! It's the most important meal of the day!" A breakfast-lover myself, I never understood why someone would skip this nutritious and delicious meal. But then I entered college and experienced the rushed mornings that make it harder (not impossible) to prepare and eat a well-balanced breakfast. Athlete nutrition is not only about maintaining a healthy lifestyle, but also about fueling the body for intense training sessions, competition and proper recovery. This post is aimed at reminding athletes that one of the easiest ways to keep their mind and body healthy is to start the day with a healthy breakfast. The benefit to eating breakfast outweighs any perceived reason not to. With a little planning and mindfulness about your morning fuel source, you will be on your way to replenishing glycogen stores, improving your weight management and enhancing your concentration and cognition. If you're already a breakfast champion, read on to find out what professional athletes are eating in the A.M. to see how you compare!
The Benefits of Breakfast
Replenishing glycogen stores: Sleep is an essential part of your recovery. Unfortunately, during this time, the body's glycogen stores are depleting. For optimal performance, it is vital that an athlete to replenish these stores to prepare for that day's training sessions. Without a good breakfast you are putting yourself at a disadvantage and are making it more difficult to perform in that day's practice or competition.
Weight management: Research shows that eating a well-balanced breakfast is associated with lower energy intake throughout the day. In fact skipping breakfast can lead to a larger appetite as the body is lacking the fuel it needs. In the nonstop student-athlete lifestyle, hunger throughout the day can lead to poor and impulsive nutrition decisions, often enticing you to buy what is available when the hunger hits. Eating a nutritious breakfast can prevent unhealthy snacking and keep you on your nutrition regimen.
Improved concentration and cognition: Many studies have shown that eating breakfast can increase memory function during the day. American Journal of Clinical Nutrition published this study, and found that blood glucose increases after a meal (like breakfast), which helps improve cognition. This boost in memory can not only help you in the classroom, but it can also improve concentration during your training-a vital component in avoiding careless injuries.
What the Pros eat for Breakfast!
Everyone has a unique breakfast routine. I caught up with some professional athletes and asked what their typical breakfast looks like. Here's what they said:
Final Thoughts
Breakfast is an essential part of the day and should not be skipped. Everyone has to make sacrifices in life, however breakfast should never be one of them. Eating breakfast can help replenish glycogen stores, manage weight and improve memory and concentration. Lastly, here are a few tips to help you get that well-balanced breakfast in the morning.
Plan ahead. Prepare for your morning dietary needs prior to waking up.
Wake up earlier! Give yourself time to prepare a good breakfast.
Incorporate low glycemic foods. This will help to fuel you until your next meal.
Try one of the Pros' breakfasts listed above for fun! It could be right for you!
References:
Manore, Melinda M. Weight Management in the Performance Athlete. College of Public




Health and Human Sciences, Oregon State University. Nutritional Coaching Strategy to Modulate Training Efficiency. Nestlé Nutr Inst Workshop Ser, vol 75, pp 123–133

Benton, David and Pearl Y Parker. Breakfast, blood glucose, and cognition. American Journal of Clinical Nutrition: 1998;67(suppl):772S–8S
Topics: Nutrition