You've seen the gadgets: you go to the gym and someone is wearing a cool digital watch, until you realize it's much more than that. You walk into any athletic retail store and alongside the running shoes and sportswear they now showcase a bit of technology that can track your training, sleep, and much more all by wearing a band around your wrist. In this week's discussion I will outline three of the major brands of training trackers so you can make the choice right for you.


Nike+FuelBand
The trend setting athletic powerhouse company, Nike, has produced a gadget known as the Nike+FuelBand. It will cost you $149 and can track several variables, including your overall daily activity, calories burned, and steps taken using an accelerometer. It will allow you to set goals and track your progress throughout the day by reading a LED light on the band that ranges from red to green depending on your progress, and you can track longer term goals on your smart phone. This band requires a bit more calculating on the side of the consumer. For example, knowing how many calories burned isn't overly helpful when you can't track how many calories are ingested, and with this in mind you may want to keep a separate food blog detailing your caloric intake. Nike created a new measurement called "Nike Fuel" (measures exercise based on a sort of algorithm for oxygen kinetics), which can seem fairly arbitrary or at least less useful than working with calories. The band is fairly large and rigid, but viewing the information directly on the device instead of consulting your smartphone is a definite plus. Before you invest in what may be a sophisticated pedometer, look for my upcoming posts on two more popular fitness tracking devices.


Fitbit Flex
Fitbit recently released its newest model called Flex, another exercise tool capable of helping you track your fitness goals. Flex offers the step and calorie tracking capabilities of Nike+FuelBand, with the additional benefit of helping you track your sleep; without disturbing anyone else in the room it will gradually wake you up if worn overnight. Fitbit's Flex also allows you to track your food intake, with a food log that tells you what it will take to reach your daily caloric target. Flex is a wrist worn device like Fuel, but if you would like a tracking device that is less obtrusive, Fitbit also offers "The One" and "Zip", both small, pager-size wireless devices that link to your smartphone and do not have to be worn around the wrist. The Fitbit Flex is made of soft, comfortable elastic and has a more unique design than the Nike+FuelBand. Most exercise bands use Bluetooth to sync your activity with your mobile device. Fitbit has fast, wireless syncing, whereas other devices require you to attach the band to your phone with its audio jack for syncing. Lastly, Fitbit Flex will run you $100, the cheapest of the popular models of wearable fitness tracking.


Jawbone Up
Jawbone has released a wrist-worn fitness tracker called Up to compete with Nike's FuelBand and the Fitbit Flex. Jawbone Up is the sleekest wearable device—it doesn't require a clasp, wraps easily around the wrist, and is made of soft elastic. While it does require direct syncing with the use of an audio jack, Up can track your sleep, distance, steps, calories, and food, like the Fitbit Flex. Jawbone Up will cost you $130 and syncs with either the iPhone or Android, like the Flex, whereas the Nike+FuelBand works exclusively with the iPhone.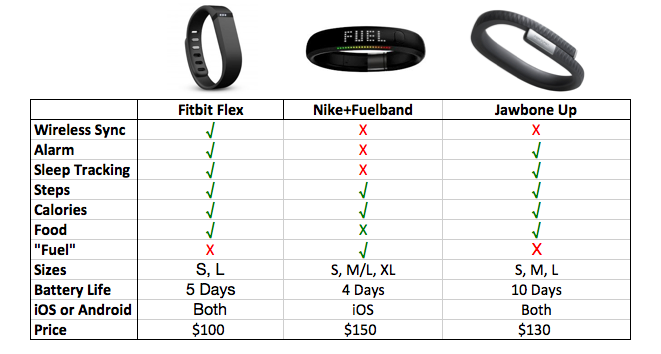 For additional check out Apple's take on top fitness mobile apps.


Interested in Nike+FuelBand? Click here...

Interested in Fitbit Flex? Click here...

Interested in Jawbone Up? Click here...
References:
http://allthingsd.com/20130715/fitbit-flex-vs-jawbone-up-and-more-a-wearables-comparison/
http://www.nike.com/us/en_us/c/nikeplus-fuelband
http://www.huffingtonpost.com/meredith-melnick/nike-fuelband-review_b_2730603.html
Topics: Performance Trends