Topics Reviewed:
Block Types
Set Templates
Drag and Drop playlist functionality
Default to last selected folder
Deleting teams
Notes for printed workouts
EXOS at Home templates
Single Sign on
Tablet Team Stream
COVID-19 Questionnaire
Intro & Overview
During the development of our latest features, an overarching focus was on providing more flexibility to our users. Specifically, flexibility in the main places users are spending time: building training, athlete management, and communication. With a wide range of users training athletes with different intent, our platform needs to be malleable to fit the many different criteria that arise. Feedback from current users continues to highlight the importance of building efficiently, managing clients easily, and communicating effectively. This feedback was a driving factor for the features in this release, from improving the way users can update training programs with just a few clicks, to introducing template sets and even providing the flexibility to create new types of training inside the Bridge platform.
While flexibility was a main component of this release, it's also a goal of ours to continue to simplify processes for our users. With many moving parts during online training, users can utilize Bridge as a central hub for all aspects of their training protocol; we want to ensure that these components complement each other and are as easy to use as possible. As more organizations are conducting their training online, our new features will help coaches seamlessly communicate and manage their teams, athletes and clients within the platform.
Block Types and Benchmarks
In the builder, coaches will now find the option to add three new types of blocks to their program: As Many Rounds as Possible (AMRAP), Rounds for Time (RFT) and Every Minute on the Minute (EMOM). These blocks can be added in the same manner as our standard and superset block types. Our team is introducing these new block types to expand the range of training programs that trainers and coaches can build and deliver using BridgeAthletic.
To create this feature, our team started by looking at the requirements of this project and worked with one of our partners, Onnit, to better understand a) how this training methodology is put into practice and b) how it might look on both the coach and athlete end.
Once we identified the key aspects of these block types, our design team got to work, drafting design concepts exploring how we could incorporate this type of training model into our platform. We then iterated on the design and user experience, collecting feedback internally and externally, and refined the feature set before rolling out a beta version to select users. As of Wednesday, May 27th we have launched this feature for all users.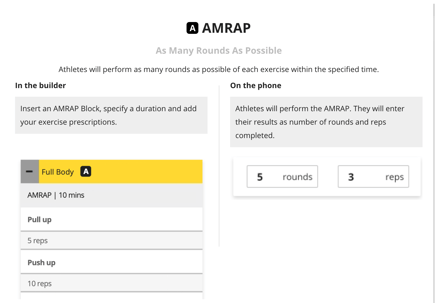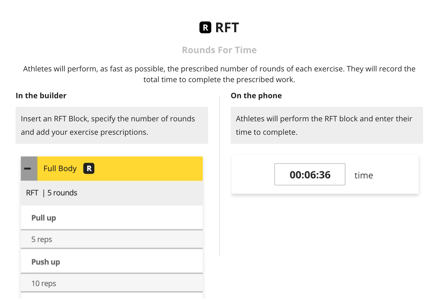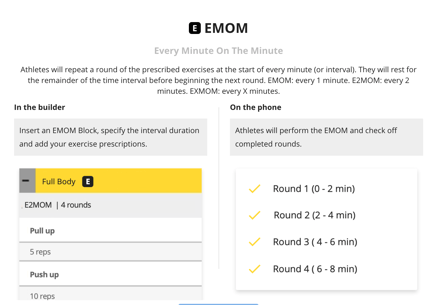 Benchmarks
As we created these new block types, the importance of tracking results over time became apparent. Before this release, history was only available at the exercise level. However, as we expand our block types to fit a wider range of training methodologies, our team felt that the ability to track results needed to evolve with it. Therefore, we have introduced benchmarks, which will allow the block-level results of these three new block types to be recorded over time.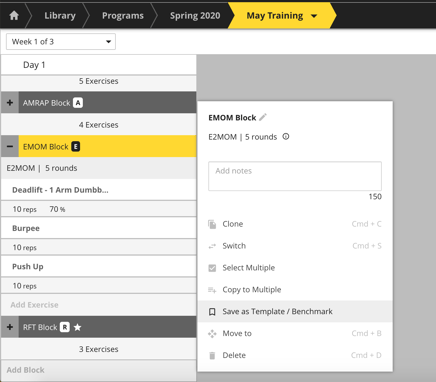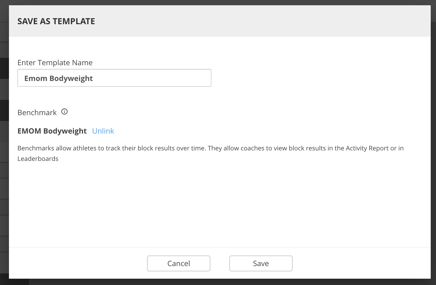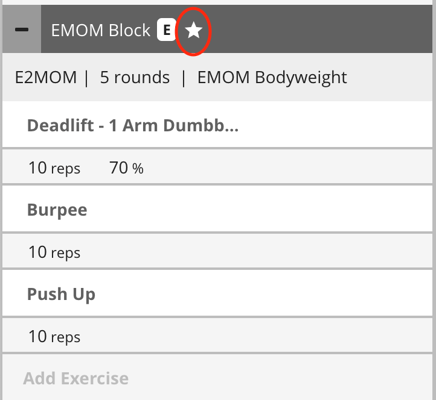 Our team is excited to introduce a solution that delivers time-structured training and allows for new communities of both athletes and trainers to utilize Bridge. Recognizing that much of our current feature set is geared toward strength training, we are currently working to reach a broader range of training organizations and work with a wider range of athletes. With new block types, we open up the ability for popular training styles that athletes are performing at gyms and studios worldwide to be delivered through the BridgeTracker app. Now, with EMOM, AMRAP and RFT blocks, performance facilities (like Onnit), tactical groups and personal trainers can create time-structured training and accurately track this work in a more holistic way. If one of these block types is marked as a benchmark, the data will flow directly into both the activity report and the leaderboard. This allows coaches to easily track these blocks of exercises, while also adding a competitive aspect to the training by displaying the results on leaderboards.
For more information on block types check out this video:
Set Templates
We are always looking for ways to make programming more efficient and to provide our coaches with more educational resources. Our team noticed that one aspect in the builder that often takes up significant time is building out prescriptions for exercises. In Bridge, users previously had the ability to create templates from blocks, workouts and phases to avoid rebuilding the same content. We thought that this same functionality should also apply to loading prescriptions.
In the world of strength and conditioning, there are certain loading prescriptions and rep/percentage schemes that are used regularly. We wanted to allow our users to save the prescriptions that they often use and reapply them in a seamless way. To do this, we now allow coaches to save a loading prescription as a template, which can be added to any exercise in any program. Additionally, once the template sets are inserted, adjustments can be made so that coaches can continue to update their work without needing to completely redo it.
With many of our trainers and coaches coming from different training backgrounds, we wanted to be able to add an educational component to our set templates feature. Our internal team of Strength and Conditioning coaches built out loading prescriptions for different training focuses such as hypertrophy, max strength and conditioning. In addition to creating their own templates, coaches can also utilize these preset loading prescriptions to efficiently prescribe workouts with the desired training intent. Some may already be familiar with these rep/percentage schemes, while others may find that these new sets will expand their training toolset.
Drag and Drop Playlist Workouts
With many of our users delivering training using our playlist program functionality, our team took a look at ways that we could continue to improve this feature. We noticed that many users utilize the ability to drag and drop workout days to rearrange the schedule when assigning programs via the calendar. Thus, we brought this same functionality to our playlist programs. However, because there are no days slotted on the calendar, we had to think of a different way to rearrange the order of the workouts. The solution: coaches can simply drag the workout to a new spot and the other workout days will automatically adjust.
Default to Last Selected Folder
One of our key, ongoing objectives is to make the building workflow more efficient. With this goal in mind, our team took a look at some of the places that we could minimize repeating steps and at the number of clicks needed to accomplish a task. One place in which we identified an inefficiency was in selecting categories of work like EXOS content or templates.
Now, when you're in the builder or in the library, our system will remember the category of work last selected and will open to this same category. What do we mean exactly? For example, when adding an exercise to a workout, if a coach toggles from "all exercises" to their custom organization exercises, the next time they open the exercise search module, our system will open directly to the organization-specific exercises. This will prevent coaches from needing to repeat the same steps of selecting a category to look through. It's the small wins that really can add up and help to improve an overall workflow.
Content from Deleted Teams
Based on feedback from our current users, we improved the functionality around deleting teams within the platform. Previously, when a team was deleted, the programs associated with that team were also deleted. Programs were tied to the team, so when a team was deleted, programs associated with this team did not have a place to live within the platform. But not anymore. Now, as coaches do some spring cleaning in Bridge, deleting a team no longer means deleting content. When a team is deleted, all of the associated work will move to the "no team" section. For example, if I have unassigned programs in my Team A folder and I delete Team A, all of these programs will be moved to the No Team folder.
Notes for Printed Workouts
Some of the organizations using Bridge either may not permit or have access to technology in their weight room; instead, they print their Bridge workouts for their training sessions. With our printing functionality being a main aspect of their workflow, our team was provided valuable feedback on how to improve the experience for athletes and coaches using this feature. Much of this feedback was centered around notes. When an athlete is completing a workout on our BridgeTracker app, exercise notes and cues are an easy way for a coach to communicate instructions such as tempo, rep ranges and form tips to their athletes. However, we did not previously have a place for this on printed workouts.
Taking this feedback into consideration, our team added room for notes on the exercise level for printed workouts. This will help athletes get the same level of coaching and support while using printed workouts as they would using the app.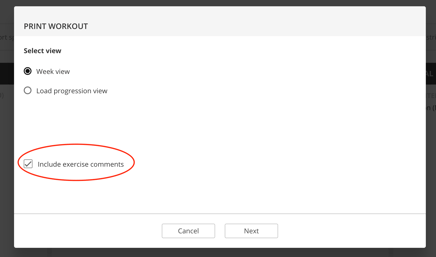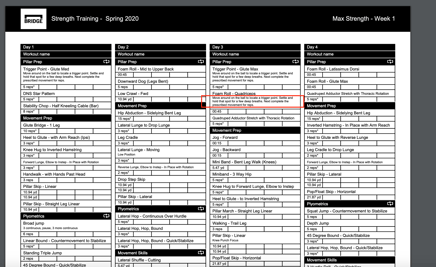 Train from Home Templates
The transition to solely online training happened fast, and in turn we needed to react quickly to best support our users. As gyms and schools closed, our team worked with EXOS to create and publish content for athletes to complete at home. We wanted to ensure that remote training did not mean no training. For this reason, we continuously added new at-home training content in the form of template programs, phases, blocks and work-along videos, all of which included different equipment and training levels. We now offer the following at-home content:
4 template programs - 4 bodyweight and 4 with dumbbells only
16 template phases
96 template blocks
6 work along videos - 30 minutes each

Single Sign On
Our team recently launched the ability for both coaches and athletes to sign on to the Bridge web platform and mobile applications using either their Google or their Apple login credentials. This functionality is called Single Sign On. The goal of this project was to simplify the process to access Bridge while also offering more robust organizational controls for larger organizations.
SSO is another layer of security for larger organizations that prefer that their coaches use only one credential to access the different platforms made available to them for their work. This makes it easier to keep track of who has access to what from an administrative standpoint. We now allow organizations to use solely SSO as a way to gain access to Bridge, which in turn enables other security features such as two-step authentication.
.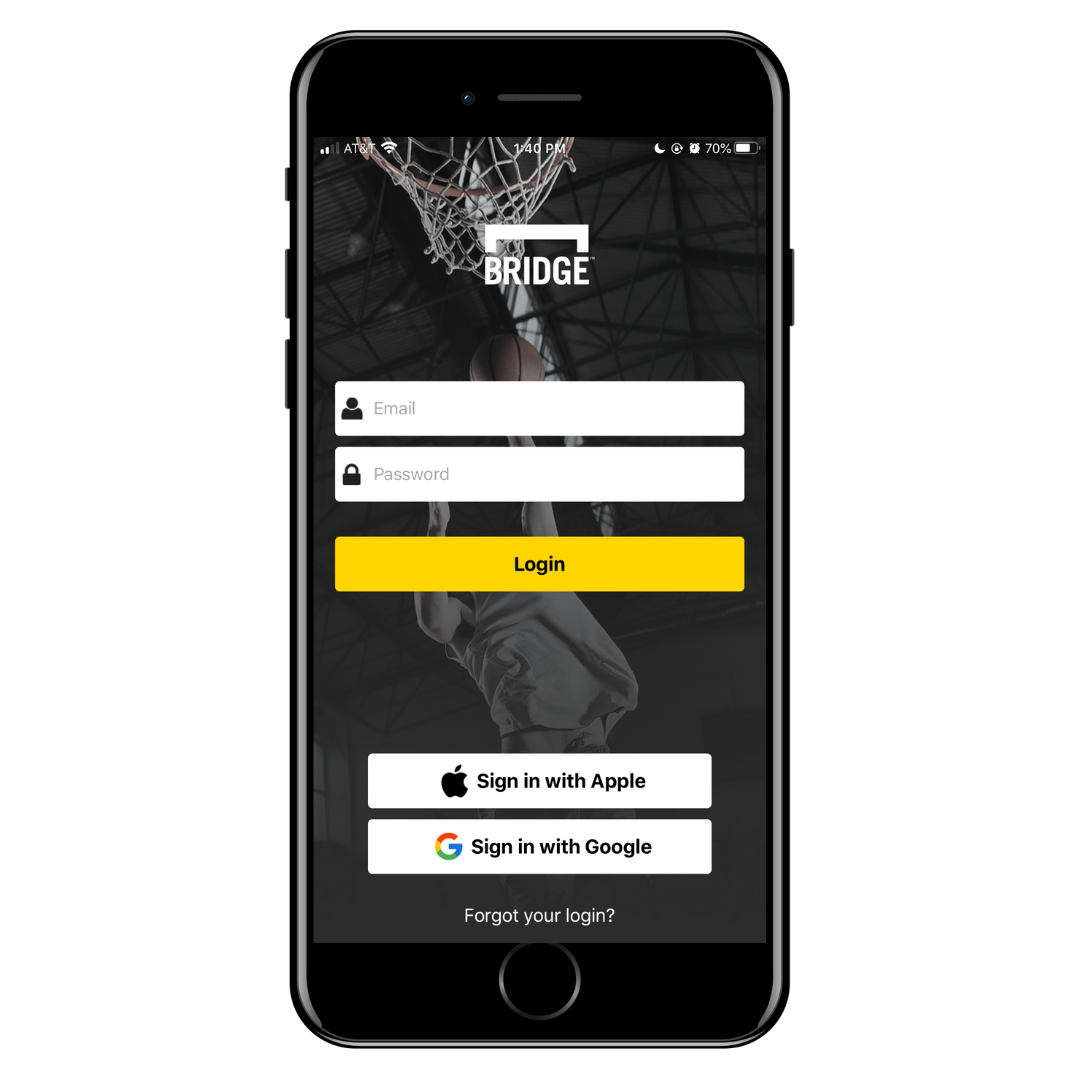 Team Stream on Tablet
Our tablet app is an essential tool for coaches on BridgeAthletic; we consider it the new "coaches' clipboard". On the tablet, coaches have the ability to manage all of their athletes, build and deliver training, and track data. However, we recognized that the communication tools could use some improvement. Previously, our in-app messaging was only available on the web platform and in the mobile app. With a goal of feature parity between our tablet and web application and the need for communication between athletes and coaches, adding the team stream to the tablet was a must.
With many users delivering training remotely, it's more important than ever to find ways to stay connected with athletes. The addition of the team stream to the tablet will help to bridge any gap in communication and will allow coaches an easier way to continue to support their athletes. Along with sending direct messages, coaches can send videos and photos directly to their athletes. This makes demonstrating how to complete an exercise or provide corrective movements to an athlete a breeze. All communication is kept and tracked in Bridge so that both the coach and the athlete can refer back to conversations, meaning that even from a distance, training and coaching won't lose a step.
COVID-19 Questionnaire
As gyms begin to re-open, we want to help provide our users with the tools to participate safely. Many organizations are implementing new protocols to check on an athlete's health. For this reason, our team created a COVID-19 questionnaire available for all accounts as a mobile form for athletes to fill out prior to training. Coaches and trainers can review the answers to these forms in the assessment module to confirm that it is safe and healthy for an athlete to return to the gym.
Topics: Company News