August 26, 2020 By BridgeAthletic
Quarter 3 2020 Release Notes | BridgeAthletic
Topics Reviewed:
Transfer Program Between Teams
View Previous Team Programs
Save Programs from Deleted Teams
More Visibility in Post Workout Forms
More Data Available on Attendance Export
Offline Mode
Edits on the Fly - Mobile App
Invitation Link
Multiple Workouts in a Day
Select Destination of Copied Block
Select Destination of Copied Block
Export Attendance to CSV
Email Notification For Playlist Program Completing
Choose What Form to Export
Export Organization Attendance (Admin Only)
Ability to Download Completed Workouts

Switch Exercise Icon

BridgeFoundation
Intro & Overview
Our Q3 has been driven by the desire to help both our coaches and athletes on Bridge have a cleaner, simpler process of getting work done. With an array of user types depending more heavily on online solutions, improvements needed to be made to the way coaches organized teams and data and how athletes engage on the app. Through feedback gathered from active Bridge users, the desire for an easier team management process--meaning transferring programs, reviewing data and getting athletes on the system--was brought to light. But, the athlete experience was also one that was very important; if implemented correctly, giving an athlete more flexibility and control can lead to a coach having less work and oversight. With both the athlete and coach in mind, we went to work and implemented the following features.
Easily Transfer Programs Between Teams
When managing multiple teams, the ability to transfer programs between these teams is a much needed feature. Now, if an athlete is a member of multiple teams, a program that is started on one team can be transferred to another team. All of the athlete's exercise history, such as worksets, tracked sets and required sets as well as forms associated with the given program will move over, so no data is lost during the transfer. Tracked and required sets completed can be viewed in the Activity Report of the team that the program now belongs to. This allows coaches to easily review the work done on this program, as if it were always associated with this team.
To move a program from one team to another, the athlete will first need to be added to both teams. The coach can then simply click on the three dots in the top right corner of the calendar and select "Move Program to Another Team".
View Completed Training From Previous Teams
Exposing athlete workout data, especially from previous teams, is an area that we needed to improve. While coaches can view current and past programs associated with active teams for an athlete, there was a gap when an athlete was removed from a team. Based on workflow feedback, when an athlete is added to a new team they are often removed from the previous team, causing the work they completed on this previous team to no longer be accessible. This left coaches in the dark on past workout data if they were not the coach to administer this training. This brought us to the solution of making previous teams available on the athlete calendar. Now coaches can easily review programs completed on all previous teams to stay informed on the athlete's progress.
Keep Programs When Deleting Teams
Deleting teams no longer means losing data. We want coaches to be able to reorganize their teams and athletes as needed, without worrying about losing work. Now, when a coach deletes a team they can choose to keep programs associated with the team or remove the programs from the library. If a coach chooses to keep the programs, all active programs will be marked as complete and moved to the completed section of the library. All unassigned programs will no longer be associated with this team but will still remain in the unassigned section of the library.
More Visibility with Post Workout Forms
In a previous release, we moved forms from the team level to the athlete level, meaning forms will appear on the athlete level irrespective of which team the form is associated with. We did this to allow visibility into training and other meaningful metrics for the coaching staff. While coaches could previously see if an athlete gave an RPE of 10 for one of their workouts and an RPE of 7 for another workout, it was hard to know with which workout on which team these RPEs were associated. With this in mind, we exposed this information on the form level. Now, when a coach hovers over a post workout form in the assessment module they can see the program name and workout name to easily assess if changes to specific training needs to be made.
View More Data on Attendance Exports
Athlete accountability is a significant metric for many organizations using Bridge, especially as athletes are training remotely. To help coaches track important information related to specific programs, we improved our attendance CSV export. Now, coaches can see the attendance for each program that an athlete is assigned, the RPE recorded for specific workouts, missed workouts, scheduled workouts, and completed workouts. Our goal was to make this an all-in-one way for coaches to share high-level workout data with other staff members or to use as a resource when checking in with their athletes. Coaches will select a date range to view this data to access exactly what is desired.
Offline Mode
Strong wifi and access to connectivity is often a problem in training facilities, which can make completing training on the BridgeTracker app difficult. To solve this, our team created Offline Mode. While connected to wifi, athletes can now download entire programs (up to 60 weeks of training per program) onto their device. They can view/complete workouts and update their results and all data will auto-sync with our database when they are back online. Notable features that are not available when offline: exercise videos, analytics/history, and messaging.
Edits on the Fly - Mobile App
This has been a project long in the works, and it is being rolled out at an ideal time given the increased volume of remote and online training. Our team received a lot of feedback on the desire to have this functionality, ranging from our Professional teams to our Personal Trainers. For our Professional teams, the motivation of this project stemmed from program management. Often, one program will be assigned to 100+ athletes, so individual edits can easily get out of hand and result in coaches managing a large number of programs. With the ability for athletes to edit programs on their end, simple edits--such as switching an exercise that an athlete cannot perform due to injury--can be made without forking them onto their own program.

As our team conceptualized this project, there were a few key factors that needed to be decided in terms of how an athlete can make edits, specifically around switching exercises and updating prescriptions. The process needed to be smooth and flexible for both coaches and athletes. Through many internal conversations and feedback gathered from Bridge users, our team was able to implement this feature in a way that does not disrupt the coaches' building process and allows for athletes to seamlessly make updates from their mobile app. Our solution was to open up the exercise library so athletes can easily switch out or add and remove exercises in their workout. In order to follow through with our objective of making these edits accurate, we allow athletes to update their parameters and number of sets to reflect what was actually done in the workout. With the ability for athletes to edit their workouts on the fly, our goal is to help bridge some of the struggles that coaches, teams, trainers and athletes are experiencing by training remotely.
Invitation Link
A crucial first step to engaging users on BridgeAthletic is to have them accept their registration invitation and login. However, this is often easier said than done. Whether the athlete or client doesn't check their email, had a typo in their email address, or the invite went to spam, there are a lot of variables that can make the registration process for trainers and coaches a little bumpy. Since the success of this step is imperative for the onboarding process, our team did an audit to find simple ways to add users to a platform and found that invitation links are increasingly popular. We considered each of our product groups, Personal Trainer, Schools, Universities, Professional Teams, and decided that the implementation of invitation links would improve the onboarding process for all.
For Personal Trainers the invitation link can be used as a marketing tool to promote training and can be easily shared with new clients to get them quick access to an organization. The link can be used in email, social media or shared via text to existing clients moving over to the Bridge platform with a trainer.
For Schools, a main pain point was organizing hundreds of athlete emails, making sure they were spelled correctly and uploading them to the correct teams. With invitation links, the coach doesn't have to worry about this arduous process; now, they can simply share a link and let the students register themselves.
Professional teams can also take advantage of this feature's simplicity. Similar to our schools, pulling together the list of emails can be tough. Instead of doing this, they can send the link over to their athletes, who then just need to complete a few steps to get their account activated.
Multiple Workouts in a Day
A highly requested feature was the ability for athletes to complete multiple workouts from the same program in a single day. This feedback was driven from both collegiate teams and professional teams. Collegiate teams need this flexibility for double days and preseason training where athletes will often do strength training in the morning and conditioning in the evening. For our Professional teams, they are often doing different types of training throughout the day, and having different programs for each of these training types can easily become overwhelming for the coaching staff. By creating the ability for athletes to log multiple workouts in the same day, athletes have a seamless experience to record work done, and coaches can easily program and review data in one place.
Now, when athletes complete multiple workouts in the same day there will be multiple checkmarks on their calendar. The calendar will display up to 3 checkmarks on a given day. When a coach clicks on this day on the athlete's calendar, they can scroll through to view the different workouts completed.
Select Destination of Copied Block
Previously, when a coach would copy a block to another day or week, the block would go to the bottom of the page. The coach would then need to manually move each copied block to the desired place in the workout. This created multiple extra steps to a feature that was meant to help coaches save time. With efficiency in mind, we took a look at another similar feature that our Platinum accounts have access to, Progressions. These features are alike, but the progression feature had a more seamless workflow. We decided to recreate this same process to minimize the steps for coaches to copy a block to other days. Now, when a coach selects "copy to multiple", after selecting the days in which to place the block, the coach will be able to drag and drop the block to the exact location within the given day.
Export Roster to CSV
This enhancement was driven from feedback that our team gathered from our current users around helping with organization of athletes. Previously, coaches could only export their rosters as a PDF. However, coaches want the ability to be able to manipulate this form without needing to take an extra step in converting a PDF. Additionally, this export will display the athletes' registration status so coaches can quickly and easily check on who has set up their account.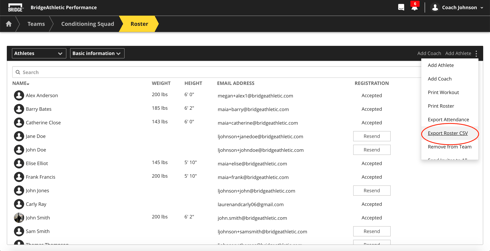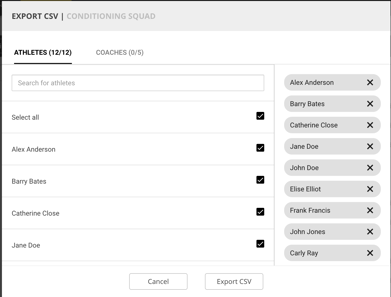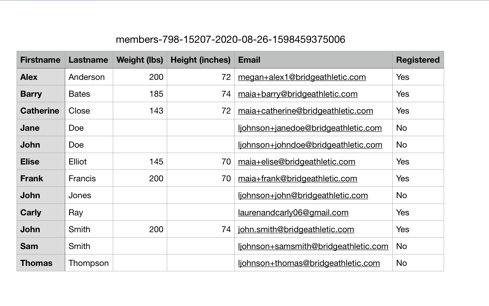 Email Notification For Playlist Program Completing
With more and more coaches assigning training using our playlist program functionality, we needed to add an additional feature to help with program management. One of the features our users rely on with calendar-based training is the email notification alerting them when a program is nearing completion. However, this was not something we had for playlist programs since workouts can continuously be repeated. This was adding extra steps in management for coaches who would need to review progress for each athlete's playlist program so the next portion of training was ready on time. To make this management process easier, we added an email notification for playlist programs as well. Now, coaches will receive an email when a playlist program has 3 unstarted workouts remaining. The email includes the name of the team and the program so coaches can easily add training or get the next program ready.
Choose What Form to Export:
Want to review all athletes' performance log data? Previously the best way to do this was through the Bridge platform. However, many coaches need to export form data to track it or share it with others in their organization. When doing this, all forms completed in a given timeframe would export, creating more work for coaches to find the data that they are looking for. But not anymore. Now, coaches can select a specific form and timeframe to pull exactly what they need from the platform. This data will export to a CSV so it is readily available for a coach's next steps.
Export Organization Attendance (Admin Only)
With some athletes still training remotely, accountability remains an important metric for coaches to have at their fingertips. Tracking attendance, especially for large organizations and schools, can be cumbersome for administrators in Bridge who need to go into each team. To resolve this, we brought the attendance export to the organization level for admins. This will allow organization administrators to export attendance for a given timeframe for their whole organization. This means that with just a glance, admins can view who is active and who is not, across all teams for all programs.
Ability to Download Completed Workouts
The desire to view prescribed vs. actual metrics has been a point of feedback our team has been hearing. As a step toward exposing these metrics in an easily digestible way for coaches, we created the ability for completed workouts to be downloaded. Coaches can choose specific workouts from both active and completed programs to export as a PDF. Coaches will get the same snapshot they see when reviewing a workout from the athlete calendar. This means that if an athlete changes a prescription, this update will be displayed in red or green. Another great way to use this functionality is to review tracked and required sets or share this with others in your organization. Stay tuned for further updates around prescribed vs. actual metrics in the coming months.
Switch Exercise Icon
In our last release, we added the ability for athletes to make edits on the fly from the BridgeTracker app. Because switching exercises is one of the more commonly used edits, we wanted to further simplify athletes' ability to switch exercises and make the experience even more user friendly. To do this, we added a switch exercise icon next to an exercise if it was recently switched. Our system will remember what the exercise was last switched to and ask the user if they would like to make the same switch again. This allows the athlete to save valuable time while completing their workout and ensure that it is as accurate as possible when the coach reviews it.
BridgeFoundation
We recently launched the BridgeFoundation to support equality in athletic development by providing access to coaches and training resources for underserved youth. Our goal is to provide an end-to-end athletic development program for participating schools. We are currently working with Eastside College Preparatory School in East Palo Alto, CA and Richmond Senior High School in Rockingham, NC. We are excited to have our BridgeFoundation website live and available through our main website to allow other schools and organizations to be nominated.
We hope these new features help improve the workflow for both our athletes and coaches so that all users can seamlessly train whether that is in-person, remote or online.