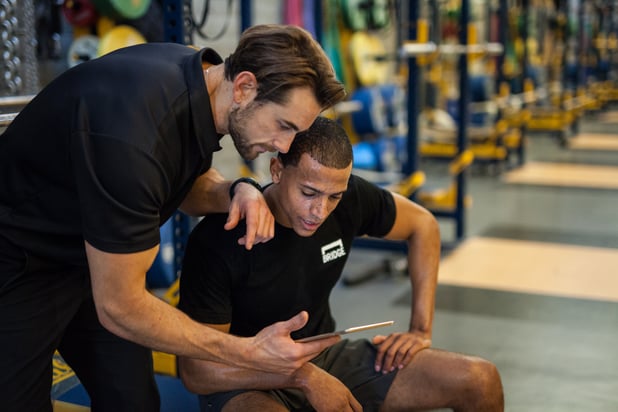 Communicating with your team can be a challenge. Accounting for last minute scheduling conflicts, relaying workout descriptions in the off season, and generally keeping track of a high volume of athletes can be a challenge. That's why we've created software for strength coaches and the Team Stream feature to help streamline all communication with your individual athletes as well as the different parts of your department, from sports coaches to trainers. While this simple messaging system can significantly impact your athletes' engagement and your tracking of their success, BridgeAthletic's communication features also enable the rest of your training staff to collaborate more effectively.
"BridgeAthletic has created a system that has made communication which includes training protocol, training status, personal bests, and injury status easier between coach and this generation of high school athlete."

Nick Garcia, Strength Coach at Notre Dame High School
Direct Messaging: The Team Stream
The Team Stream is one of the primary ways to directly message athletes. Coaches are able to use this tool to answer an athlete's questions, communicate program updates or offer instruction on exercises and best practices. This tool is made up of two communication streams, the Athletes Room and the Coaches Room. The Athletes Room allows athletes to write questions and comments to all of the coaches assigned to any particular team. This messaging system is designed to allow all coaches to address any of their athlete's questions and maintain a direct and consistent line of communication.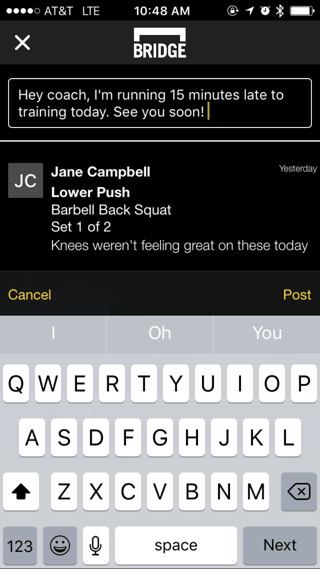 (Image #1: In-App Communication)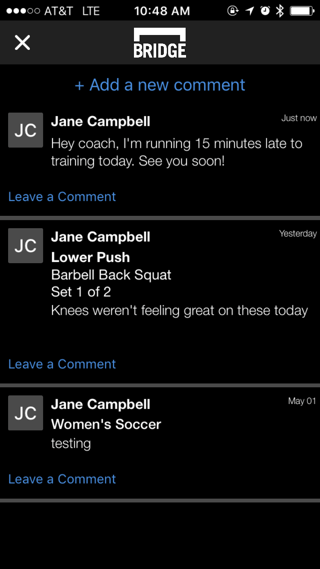 (Image #2: In-App Communication)
Alternatively, the Coaches Room allows a team's coaches and staff members access to each other directly from the platform. For instance, if your nutritionist, strength and sport coaches are all members of any given team, they can communicate privately about that team's progress with each other as only coaches have access to this portal. To ensure in the moment communication, each coach of the team will receive a push notification any time there is a new message in the Coaches Room.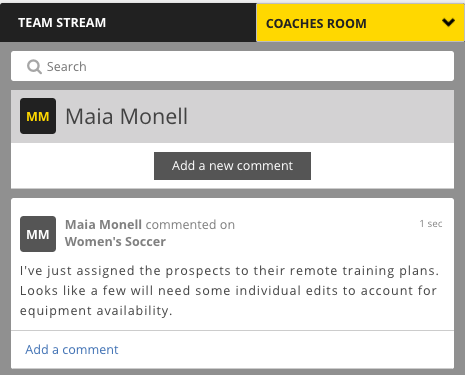 (Image #3: Coaches Communication)
Health Status Notification
Communicate changes, injuries, or conflicts to your athlete's routine with other members of your team with our Health Status Notification. Not only can you automatically change their status from the roster page, you can leave a note regarding this status change, allowing all of your coaches to easily refer to this change and use your update to make any changes necessary to their programs for that particular athlete.

(Image #4: Health Status)
So how do these tools work together to deliver the most efficient mode of communication? Imagine you are sitting in a meeting and receive a message from one of your athletes letting you know she's come down with the flu. You know your assistant strength coach is scheduled to meet with her in an hour prior to an afternoon practice. Now you can go directly to her profile, click on the Health Status tool to make note of her recent status.

(Image #5: Health Status)
Once you've left the note, you can navigate to the Coaches Stream to further update your coaching staff.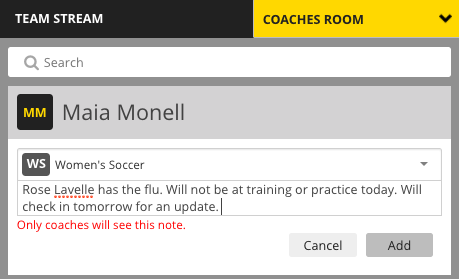 (Image #6: Coaches Room Communication)
Lastly, you can message Rose back to let her know you've notified her other coaches so she can focus on a speedy recovery.
BridgeAthletic provides software for strength coaches and these tools allow you to streamline your communication efforts, meaning less texting, calling, and worrying about the overall engagement and communication across all of your teams. For more information about software for strength coaches check out this blog on leveraging athlete maxes and this article on editing workouts.
Topics: Performance Trends, Sports Technology