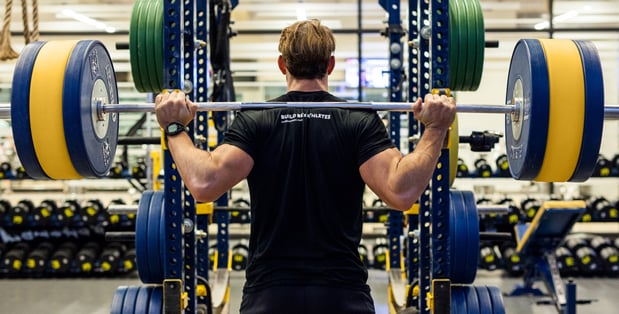 Delivering an individualized strength and conditioning program to each member of a team used to be difficult. Often, we found ourselves calculating percentages based on each athlete's 1 rep max equivalent (%1RME) and then creating unique lifting cards, containing each individual's weight prescriptions. However, strength training software and the BridgeAthletic builder does away with these calculations. Simply choose to prescribe weight based on %1RME and deliver your workout to every athlete at once, allowing each value to automatically calculate, based on the percentages assigned. No more mistyped Excel formulas. Spend your time on the floor, not the computer.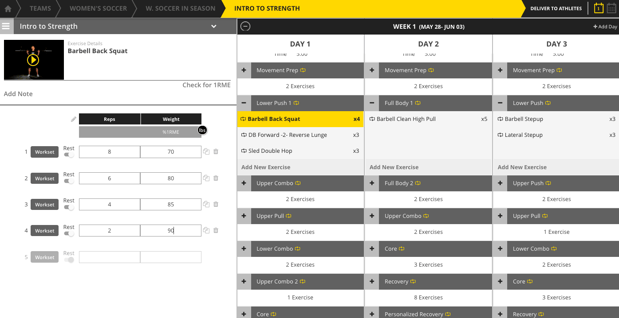 Figure 1 : Prescribing %1RME
While many programs allow you to input your player's test history results, the BridgeAthletic strength training software allows you to automatically call on those numbers to prescribe weight progressions throughout your program. This proves particularly valuable for large teams and remote training as it can be a challenge to monitor and keep track of each athlete's test results. For instance, say you are programming for your soccer team's off-season. You want to add a four week progression of a lower push set, highlighting Barbell Back Squat. Your athletes have completed Barbell Back Squat 5 rep max tests in the past. Where once you would be tasked to calculate a %1RME from the 5 rep test and then program for each athlete or devise a complicated excel lookup formula, now you simply need to input the set/rep and %1RME scheme.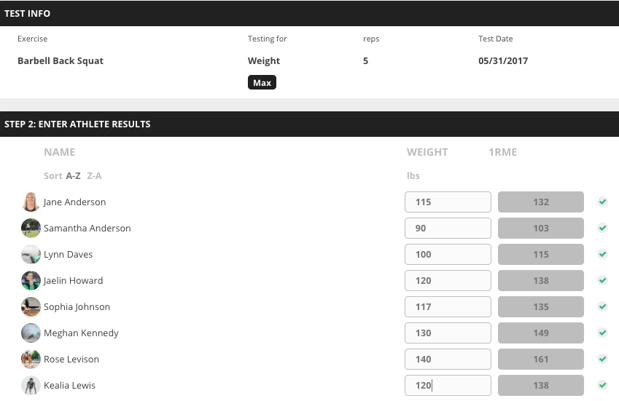 Figure 2 : 1RME Calculation
Furthermore, if you have a few athletes who have recently joined your team and need to confirm max results, simply use the 'Check 1RME' option directly from the builder. This feature allows you to not only view current max results, but will also allows you to directly edit results for athletes, granting you even more flexibility and control over your building process.

Figure 3 : Check for 1RME
Now, say you'd like to incorporate Barbell Front Squat into this progression cycle. While you'd like to see how your athletes perform this exercise, Front Squat has not yet been a focus of your programming. Thus, you do not have max results for this test. No problem. Simply use the %1RME Linked weight prescription to "link" this progression sequence to an exercise, such as Barbell Back Squat, that does contain athlete max results. Proceed to program accordingly, knowing your athletes will be prescribed weight based on the linked percentages you have used.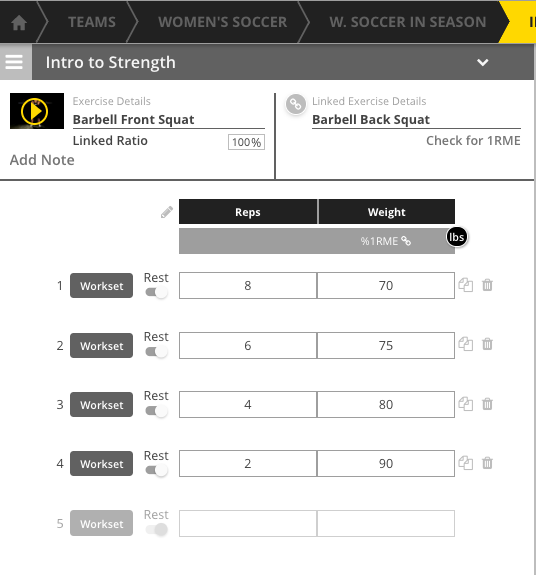 Figure 4 : %1RME Linked
BridgeAthletic's 1 rep max tools have been designed to not only optimize your progression and periodization structure, they have also been developed intuitively. Any strength training software can store max histories and write equations; however with BridgeAthletic, you have the availability to review, add, and edit any prescription across your entire microcycle, leaving you with less time at your computer and more time with your athletes. To learn more about designing strength and conditioning programs check out these articles on digital programming and the 5 key phases of structuring a program.
Topics: Performance Trends, Sports Technology