It's that time of year again. The good vibes that accompany long summer days, offseason training, and vacations are replaced by excitement and fear as the imminent return to school approaches.
For aspiring collegiate athletes, the beginning of school demands a lifestyle where academic and athletic performance equally affects future recruitment. As a former collegiate athlete myself, I know all too well the challenges associated with maintaining this balance.
There is no magic formula for being a successful student-athlete. However, there is one thing that all successful student-athletes have in common. They are willing to accept and seek the advice of others. I recently had the opportunity to poll a group of former student athletes for advice on the subject. Here are some of the best tips regarding how to maintain and create a successful academic/athletic life balance.
Advice from Successful Student-Athletes

Academics
-Engage your teachers and peers. Don't be afraid to ask questions directly. Get information directly from your teachers. If you just read the textbook, you have no idea what your teachers will test you on. If you talk to your teachers, chances are they will give you all the hints you need about what is most important for that class.
-Planning is key to success. Lay out your practice and game schedule for every week/month/semester and make sure that you have allotted periods of time every day designated for school work. If you happen to have no work on a specific day, start working on future assignments. There is no such thing as starting too early as an athlete.
-If you're in season this semester and are scheduled to miss class for competition, make sure you talk to your teachers the first week of class and give them you're racing/game schedule. There are some teachers who get annoyed by student athletes because they miss so much class. But if you're transparent about the fact that while you're committed to your team, you also take your academics seriously, professors generally are very receptive to your needs.
Balance
-Set goals that are achievable. You may be a good athlete and student but there are limits to your time and energy. Figure out a balance in athletics and academics where you'd like to be at the end of the year. Determine the right steps to get there (ie. ask your coach and teacher) and then put your energy into that. Anytime you find yourself distracted, re-align.
-Have a social life but make sure your friends are supportive of the goals above. Typically they will also be athletes or students that have their own goals and you can support each other, while still having fun.
Support
-If your school has a student athlete academic support system, use it! Hours and hours of practice and getting good marks in your classes is not an easy task. Find out if your athletic department has specific student athlete designated tutors. These guys are often available at odd times to fit with your training schedule.
-When you're in the thick of it, remember to breathe. Then reach out to upperclassmen and ask them how they handled certain situations. You have an entire team of people who are facing the same challenges you are..
-Tutoring is made for athletes. Frequently attend tutoring sessions to clarify uncertain concepts and work through homework problems. Not only will you get work done faster, but you will learn the correct ways for find the answers on your own later.
Academics and Athletics:
I hope that these tips will help calm any nerves you may have and excite you, as you and your teammates enter a new school year. If you have any more questions about how to best balance your academic, athletic, and social lives, post in the comments section below and we'll help you with your personal situation.
Be ready for the start of a successful school year with strength and conditioning programs from BridgeAthletic. Use the BridgeAthletic Back to School coupon code BACKTOSCHOOL and get get $20 off of your sport-specific customized programs.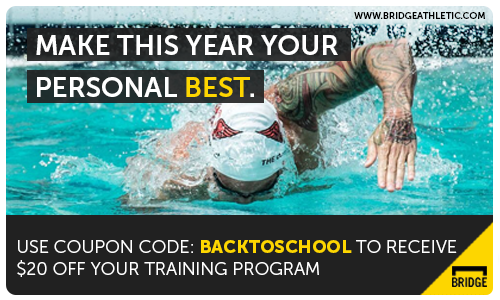 Topics: Performance Trends