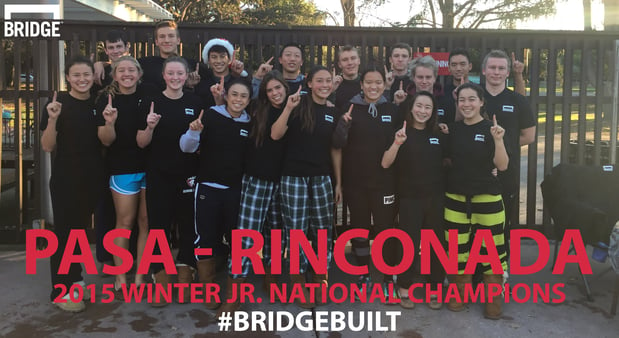 Palo Alto Stanford Aquatics (PASA) Rinconada - 2015 Champions (West) of Junior Nationals Swimming
Every day at BridgeAthletic headquarters, we hear tales from coaches and athletes across sports of how Bridge programs have helped them - by making the athletes stronger, the coaches wiser, or the club more unified and confident than ever. These are stories of championships, obstacles overcome, and goals achieved. It's what keeps us doing what we do every day, striving to build better athletes across sports and around the world. But instead of keeping these tales of glory and greatness to ourselves, we'd like to share them with you through our #BridgeBuilt Series featuring a team or athlete that has achieved great results while using the BridgeAthletic platform.
PASA – Rinconada is a swim club in the San Francisco Bay Area that has been using Bridge products since late 2013, which is longer than nearly any other team across all sports. Since starting their BridgeStrength program, they have seen phenomenal success as an organization. This past weekend, they won the 2015 Speedo Winter Jr National Championships - West. At that meet, they had 3 individual champions as well as the boys winning the 400 free relay and the girls placing 2nd in that event. We've compiled some of their most impressive achievements, as a team and as individuals below:
Combined team title at the 2015 Jr National Championships

Combined team title at the 2014 Jr National Championships

Combined team title runner-up team at the 2014 Winter Jr National Championships

Individual athletes accomplishments include wins at their respective High School Section Champs, qualifications for Olympic Trials (10), and making USA Swimming High Performance camps.
When we talked to Coach Tony Batis about his training methodology and how the Bridge program has fit into that, he highlighted how personalized the workouts are for each of his athletes, allowing them to address their specific weaknesses to get better as a team.
"Bridge has allowed our group to increase its overall strength through Functional movements tailored to their specific needs for where they are in their development. Rather than a generic overall program for the entire group, each athlete receives a specific program that helps them maximize who they are as an athlete. It has made a big difference in allowing our motivated athletes to progress at a rate they want to."
Finally, he told us how Bridge has helped make him a better coach by being aware of each athlete's daily condition and energy so he knows when he can push them and when they need rest.
"The state of being surveys have been good for feedback on the athletes' state of mind (physical and mental) at any given point in time."
Our biggest congratulations go out to Coach Batis and all the championship athletes at PASA - Rinconada! Keep up the great work!
Think your team should be featured on the #BridgeBuilt series? Clink the image above and share your achievements with us!
Topics: Team Development