July 11, 2018 By BridgeAthletic
HOW AS ROMA CRAFTED A PERFORMANCE CULTURE [PART II]
Becoming Creative in the Training Center
In part one of our AS Roma breakdown, we explored how Director of Performance Darcy Norman and Head Performance Coach Ed Lippie adapted a structure around a core mission statement; "putting the athlete at the center of all decisions." And how this structure allowed them to create a performance ecosystem. In part two, we'll explore the benefits from leveraging this structure and how coaches gain more time for creativity while in the training center. "Creating systems allows you to be more creative because if you've got a framework that you can fall back on, it frees your mind to come up with some creative tweaks." While routine is key, breaking out of the mundane in the training center can help both the staff and the athletes feel refreshed every time they come in.
Haven't read Part I yet? Check it out here
Listen to full podcast:
---
Make Time to Get Creative
"To keep the staff motivated and on top of things, they have to have their recovery time with their families as well. Hopefully the data and the technology makes that possible."
Making "creative tweaks" to an already established plan will more likely happen when your mind is free from thinking of the nuts and bolts of your day to day routine. Rather, Darcy & Ed's structure works because it allows them to spend more time doing what they love - coaching. Structure frees up their time and energy to connect with each of their players on an individual level, creating invaluable relationships that ultimately bring the team closer together. This wouldn't be possible without their balanced relationship with technology. As we discuss in Part One, identifying what you want to track and leveraging the right tools to help you do it is much more impactful than looking at every number just because you can. Selecting what is important and what is not, especially when creating training and recovery programs, will save you from unnecessary work. Beyond improving efficiency, structure gives your staff (as well as athletes) trust in your process. Because you don't have to spend countless hours focusing on admin work, you can find time for your own recovery so when you return to the training center you can give each athlete the individualized attention they need.
Why Personalized Time with Athletes Matters:
1. Breeds Confidence On and Off the Field
"...A first team coach would never have worked with me in the past."
A coach can be another sense of motivation for an athlete. As obvious as it may seem, personalized attention, especially given to athletes who may not feel like he/she is the "superstar" on the team, can ignite a new found devotion for an athlete. The impact of this was made evident to Darcy & Ed when a second team player was astounded that they were taking time to work with him. Because of this new found confidence and time with the coaches, this same player just entered the starting line up. With this extra time allotted to players, thanks to their organized structure and workflow, Roma coaches have the opportunity and resources to treat every player the same, regardless of the player's position.
2. They Become Apart of The Process
It is not solely up to a coach to help harness an athlete's potential, the athlete needs to be part of the process. Darcy & Ed encourage athletes to set goals for themselves at every point of the process. If a player is hurt, he should actively pick a day he would want to be back on the field by. This allows both the athlete and coach to work towards the same attainable goal, meeting each turn in his road to recovery. Educating players ensures that the time they are not spending with the coaches is spent right. Ed explains how this key educational concept helps further team trust as, " A big part in establishing trust is informing the players why we're doing what we are doing."
3. Creates Trusting Relationships
"If you don't have trust in place, things can unravel"
A unified team is not always a given. To have chemistry, there needs to be trust and trust is often established off the pitch- not on it. Darcy & Ed's first step to establishing their players trust in their coaching staff is to ensure everyone onto the same page. Not every program has to be the same- but players need to know that they can develop and progress inside of Roma's facility, rather than seeking outside attention. Players training away from the team break the team's overall mission, something Darcy & Ed hoped to change by getting each athlete onto their own, tailored programs. Once a team has this vital daily connection, everything else falls into line. Bonds are tighter and chemistry on the field is more prominent. "One of our mandates was to come in and provide a cohesive performance strategy and culture, that people would eventually trust in and not feel the need to venture outside the club."
Language Barriers
"Coaching in a foreign language certainly is coaching like a caveman."
When asked what they would advise to their past self upon taking the jobs at Roma, both Darcy & Ed agree they should have taken more time to learn the language. With a team spanning 13 different nationalities- communication can break down quickly. Ed explains, "There's a certain level of chemistry and caring that exists in the most successful teams and until you can create that human capital, which starts with communication, it's difficult to do that." Most players on AS Roma have been playing soccer for the majority of their life, so connecting on the field can be easy since they all share the same understanding of movements and what is expected of them. But for teams that want to be great, the connection can't end there. It needs to be transferred off the field and turned into a bond between the players. Language barriers can block this connection, unless you are willing to get creative. Darcy & Ed worked around this barrier, similar to the way many other coaches do, by coaching like cavemen. This is where the creativity that Darcy & Ed have been advocating for is really put to the test. They try to think of creative and effective solutions for communicating through simple, yet effective, methods like body movements and basic verbiage while also leveraging training tools that instruct players on movement patterns and progress made. Afterall, communication is a two way street and one that profoundly impacts a team's success. So put in the time to establish structure. It will allow you to not only save time, but to become more creative when creativity matters most!
Key Takeaways From Part One and Part Two
Communication is essential in establishing an organized, fluid structure

Create an internal mission statement to ensure everyone on staff is on the same page

Prioritize your athletes individualized needs

Find what aspects to training or recovery matter most to your organization and focus your technology on harnessing that data

Treat every player equally by giving them the same attention - no matter their role

Get creative in the training center

Don't let language stop your communication
Listen & Subscribe to Powering Performance here
You don't want to miss out on our next Podcast & Blog post featuring -
Assistant Athletic Director of Sports Performance at Texas A&M Tanna Burge
About the Author
BridgeAthletic

At Bridge, we are all athletes and coaches first. As athletes, our team has experienced everything from riding the pine on JV, to winning NCAA championships, to competing in the Olympic Games. As coaches, we have helped countless athletes reach their full potential, winning everything from age group section championships to Olympic Gold Medals.
Related Posts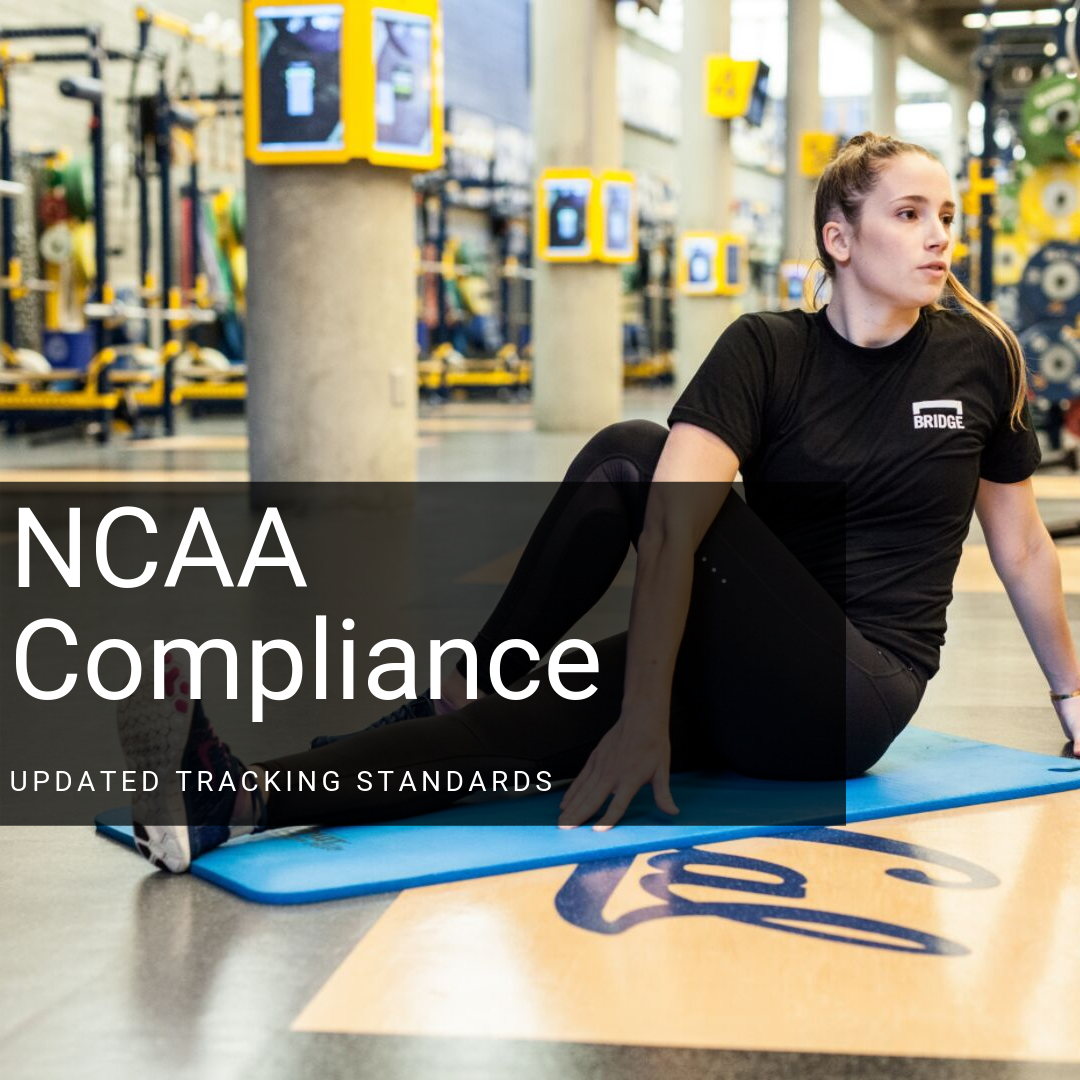 The NCAA guidelines are changing the way you communicate and track athletes. Want to ensure you're...