Subscribing to an online platform to help you build your strength training program is a great first step towards improving your workflow and empowering your team.
That said, there's a few different platforms to help you build training plans online. So, how are you evaluating which of those products will best suit your needs? Here's a quick list of what to look for...
#1. Flexible Building Tools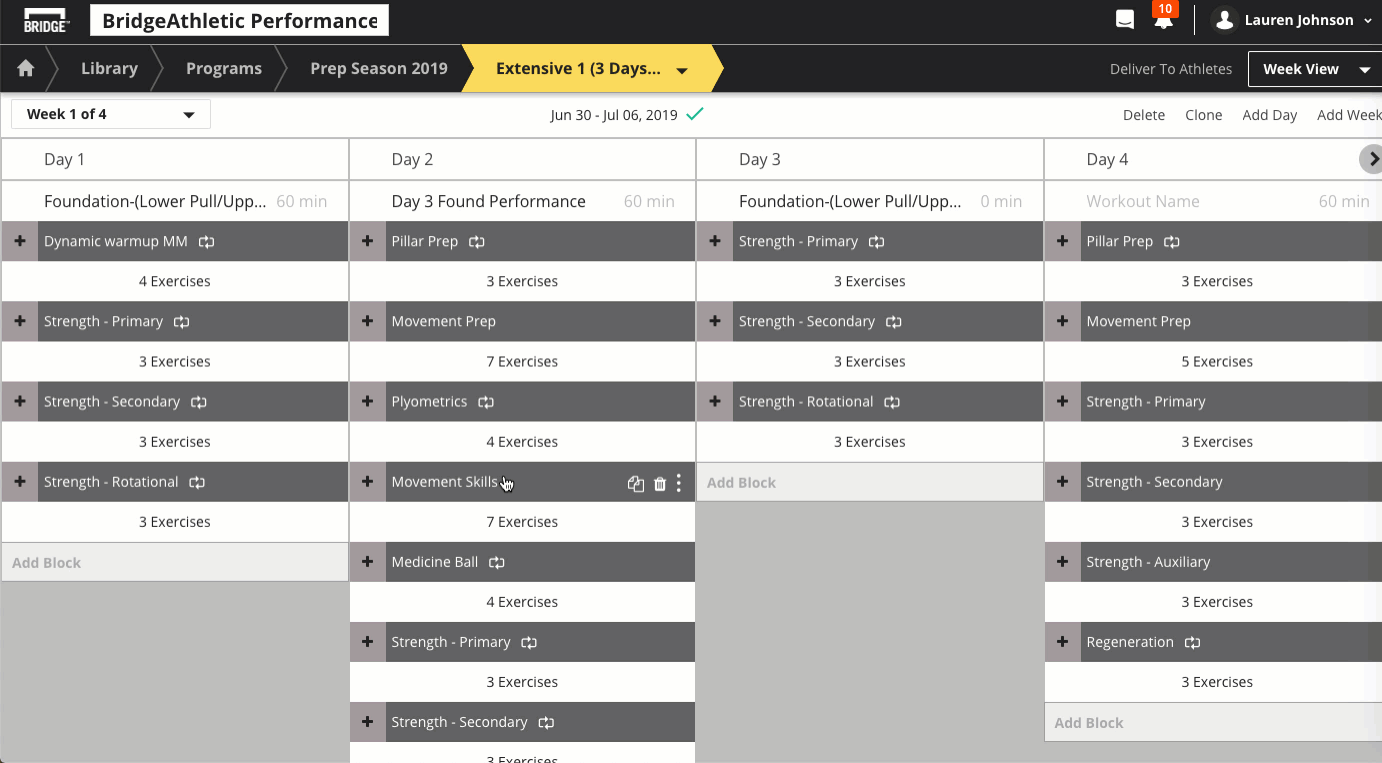 Putting your training online isn't enough to save time. Make sure the platform you're considering will help you:
Deliver group training with individual prescriptions. Meaning, you assign percentages of intensity and load to ensure each athlete receives work that's relevant to their progress.
Save and reuse your work. This might seem simple, but it's incredibly impactful to your workflow. Being able to create, templates and reuse any portion of your work is critical in saving time down the road. For example, Bridge lets you template a circuit or block progression (say a 4 week kb complex, increasing in intensity each week). You can then 'insert' that template across a 4 week meso cycle in 1 CLICK. We can hear you arriving home early for dinner. Can't you?
Multi-Week Views. It's hard to progress athletes when you're limited to a daily work view. Many softwares allow you to see a few days in a row, but if you can't see 1 day over multiple weeks, it's hard to see how the work in that day will progress. Check out Bridge's Load Progression View in the video below to see how a multi-week progression view will smash your workflows.
Custom Exercise Library. You need the ability to access great videos, images and cues to get started on a platform quickly and feel confident about the training you share with athletes. A custom library will allow you to not only access great information, but also allow you to edit it to fit your needs. Look for a library like BridgeAthletic's, which allows you to create your own exercises, edit existing, and one that contains a strong foundation of videos, position-based tags, and cues.

#2. Seamless Program Delivery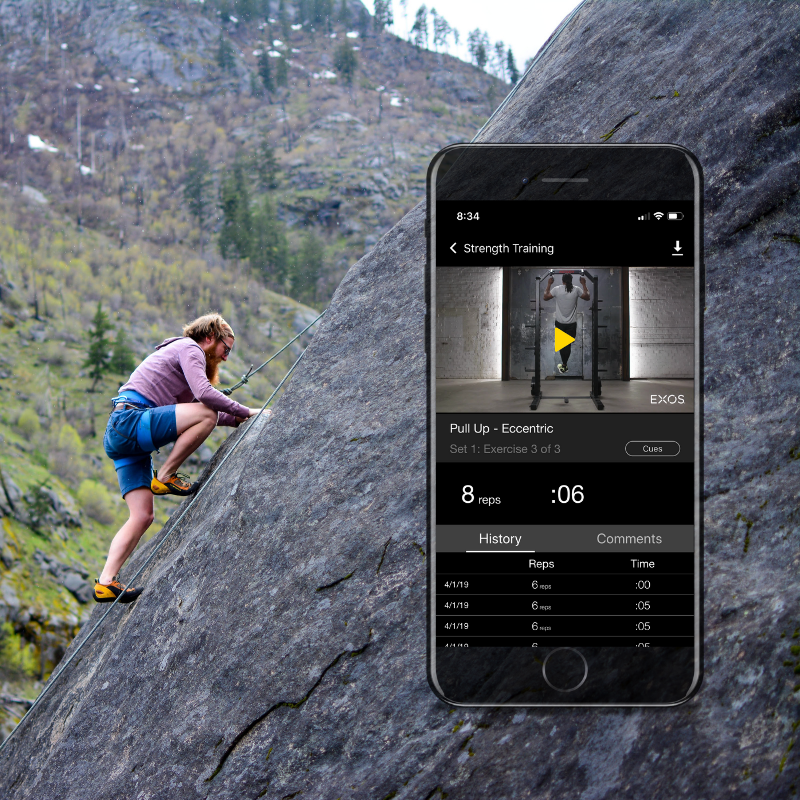 You may be investigating strength training software to improve the way you deliver training to your athletes. Good. Your athletes' compliance and engagement will dramatically increase when you provide them with great training tools. Here's what to look for:
Multi-Player training from tablet. When they're training with you, make sure you can pull up multiple players from one device at a time. This will help empower group training workflows where athletes train together (even with a few different exercises or prescriptions).
On-the-fly editing. Last-minute changes are just a part of the job. But make sure you're signing up for a training software that lets you edit training during an already-started workout. Many softwares 'lock' a started workout, disabling you to edit and make changes in real-time. BridgeAthletic's tablet application for coaches will let you make any edits necessary to both the team's program and an individual's live session. Check it out.
Deliver multiple programs to each athlete. Your best chance at success with a strength training software happens when you get multiple stakeholders engaged and enthused by the work you're doing. Many of our Bridge coaches invite their athletic trainers and rehab specialists to join in their training efforts online. Thus, many athletes have 2 or more programs: 1 for team strength training, 1 for prep or plyo work, and 1 for additional, individualized needs. Those 3 examples can be all be assigned to the same day on Bridge.
Multi-week Printing. We get it, sometimes printing is just easier. Especially when you first start an online strength building method. Make sure your system will allow you to print multiple weeks of work for an individual or group training at once.
Off-Line Delivery for NCAA Compliance. Depending on your organization, you may need to consider how you will deliver training to your athletes while they're in a transition phase or away. Make sure your tools have a way to turn tracking 'off' in order to comply with NCAA standards.
#3 Tracking What Matters.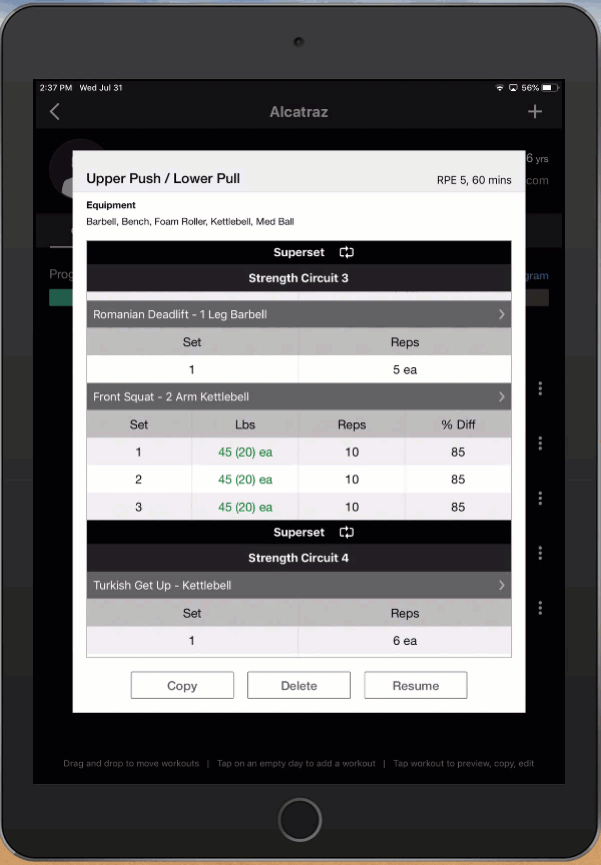 Make sure you're using a tool that helps you track progress and regress more effectively. We all want our systems to provide comprehensive data and performance reports. But, often we get bogged down with a bunch of irrelevant KPIs. Here's what to look for from your strength training software:
Test and monitor any movement. Great tools should let you implement any type of test at any point in your training cycle. Bridge's Tracked & Required set features help you do just that.
Customizable Dashboards. Make sure you can choose the data, athletes, time frames and exercises to visualize in customizable dashboards.
Print functionality. Be sure each report is exportable and printable.
Ratios. Great software allows you to compare various data points against each other. Bodyweight ratios, for example, should be displayed to help determine progress, regress and unforeseen improvements over time.
Integrations. Great strength and conditioning software will include an option for integrations with Athlete Management Systems (AMS). These are tools that allow you to aggregate all athletic performance. Your strength software can connect to an AMS to help you monitor how your work is impacting every part of the athlete's journey.
#4 Communication
A strong communication plan is essential for any organization. Technology is helping teams all over the world better connect, train and succeed. Take Bridge for example, we're a remote-first company meaning we know how valuable good communication tools can be to the progress of an organization. Here's what to look for from communication tools within strength software:
Direct line to athletes. Can you message a singular athlete directly? Make sure you can access individual athletes to offer support and guidance away from the entire team.
Direct line to coaches. Can you and your staff communicate freely across the platform? Make sure you can send athlete updates and statuses to your fellow staff members.
In-App communication. Athletes should be able to upload videos, images and cues directly from their workouts (and exercises) to more easily allow you to monitor and track movement progress overtime. Check out our communication tools here.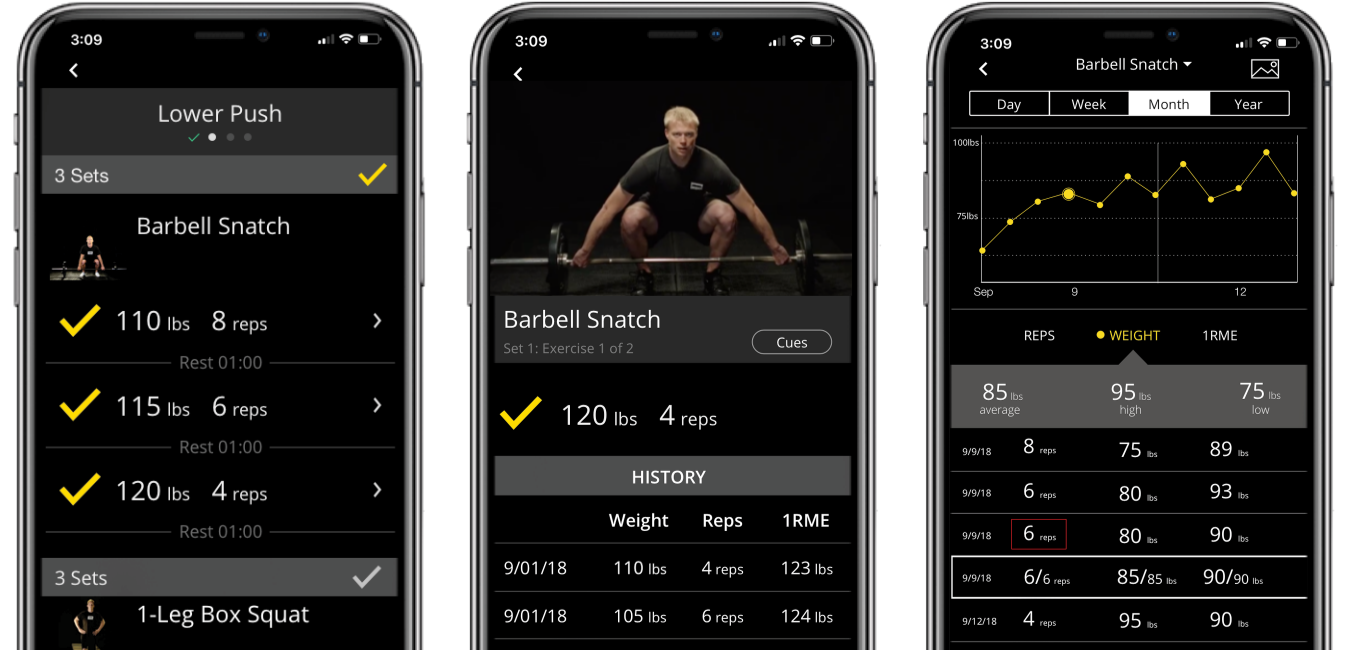 #5 Content Library
Having access to quality content can help you get up and running more quickly with your new strength software. Not only should the template content be suitable to your needs, they should also be easily editable. So, if a strength software provides templated training content, make sure it:
Can be edited easily
Deleted if necessary
Leveraged across all programs
Is easily accessible and available to preview
#6 Support When You Need It
While we hope you find our software and software like our's to be intuitive and helpful, you'll likely have a few questions. Make sure your new strength software comes with:
24/7 support
Videos & articles to support every navigation and feature set
In-app direct messaging to a real-life person
On-platform guides to help walk you through, step-by-step
A dedicated Account Manager for all annual plans who will act as a resource for all your coaching needs.
Webinars to connect with product developers and a coaching community. Try our webinars anytime!
Ready to get started with strength and conditioning software? Try BridgeAthletic free for 30 days.
Topics: Coaching Tips, Training Tips