Day 5: The Barbell Back Squat
W
elcome
to the final installation of the squat progression in the
BridgeAthletic Building Blocks series
. I
hope you have
enjoyed this second progression and look forward to sharing more progressions in the coming weeks!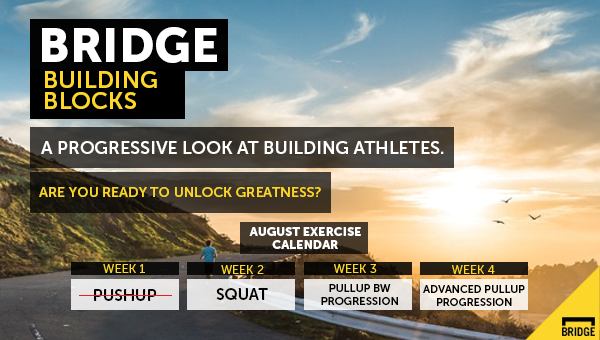 IMPORTANT! Please ensure that the athlete performing the Back Squat has had the appropriate progression leading into this. If you or your athletes' have taken some time off from training, I also recommend reviewing the progression, as anytime you load your spine and multiple joints, your body needs the appropriate physiological and timed progression. Take a look at the Barbell Back Squat below.

Exercise 5: Barbell Back Squat

With the added load of the bar on your back, focus on your balance, especially on the downward movement of the squat. Feet are slightly wider than hip width apart, toes slightly rotated out. Hands are placed a comfortable distance apart on either side of the bar.


Work initially on a tempo of 2 to 3 seconds down, a slight pause and a controlled return to the start position. Do not lock your knees out at the top. Pause and repeat.

More Building Blocks:
Be sure to check out the rest of the progression if you have more questions on how to master the squat.
Now it's your turn:
Want Feedback? We're here to help. We highly encourage you and your athletes to share videos and pictures performing
the exercises.
Use #BuildBetterAthletes i
n order to receive feedback and guidance from one of our elite coaches on the BridgeAthletic Performance Team.
Be sure to check back next week for the BW Pullup Progression.
Topics: Performance Trends