October 12, 2018 By BridgeAthletic
Creating A Training Culture - Part I
In our latest episode of Powering Performance, we were lucky enough to sit down with Sacramento Kings' Director of S&C and Performance, Ramsey Nijem. He has quickly climbed up the ladder in Strength and Conditioning, starting as UCSB's first intern in their athletic department, to assistant strength coach for the Kings, to where he is now, entering his third season as the head of the Kings' Strength & Conditioning and Performance. He attributes some of his success to good fortune and luck. But, looking more closely at Ramsey's accolades and his ability to thrive as one of the youngest S&C coaches in NBA, we quickly discover his success can be attributed to much more than luck. From his customized, state of the art training facility, to the work-flow he established early on, his passion and determination makes it no surprise that he's quickly become an influencer across the industry. His quintessential thirst for knowledge has allowed him to enter each new stage of his career well prepared to excel and advance his team to the next level. So join us as we dive into how Ramsey Nijem is transforming the landscape for Strength Conditioning and Performance in Sacramento.
Would rather read with your ears? Listen in on this episode here.
A Thirst for Knowledge
Ramsey's passion for learning and love for basketball is apparent across his work. His doctorate dissertation focused on the unique science behind workload monitoring. When asked how he came to this topic, the answer was easy, he wanted to become an expert in this cutting-edge technology that would soon change the way strength coaches train their athletes.
" I was new in the NBA, and the system was new, and it was something that I really just wanted to understand."
So, what is workload monitoring? Lucky for us, Ramsey broke it down.
In all NBA arenas, there's a camera system that tracks many different metrics for the NBA players, such as a GPS-like tracking technology. This gives coaches the ability to track an array of metrics for their athletes, such as speed and distance. Allowing coaches to calculate acceleration, deceleration and other metrics. Ramsey used this to evaluate injury mitigation and how to integrate load across the season. By not only understanding this technology but being able to integrate it into a work-flow, Ramsey is able to lead his team by coaching every athlete in the most advanced and individual way.
"Over the past few years, research really started to evolve in the workload monitoring space, specific to GPS-like data, the acute chronic workload ratio and the training stress balance. And so I thought, "Hey, we really could have started looking at some of those metrics and then looking at injuries in the NBA." And so that's kind of what we ended up doing."
Ramsey approaches his role with the mindset of always striving to coach better than the day before and to always be willing to learn more. This is demonstrated in his devotion to education. When he was first offered the assistant coach job with the Kings, his only contingency was to be able to finish his PhD program. He believes his role as a coach is, in part, to constantly grow and advance his skills- just like his athletes.
He says, " Our field is evolving quickly, and I think it's important as coaches we stay on top of the latest research and how to apply it. Ultimately, we have a really cool opportunity and responsibility to help athletes. Everyone's in a position to help and so you owe that to these athletes to try to stay on top of those things."
Ramsey's advanced training plans and his motivation to learn and leverage new technologies is what makes the Kings weight room uniquely his own. He has brought in a radar gun for med ball velocity, a kBox, a power meter and other tracking tools. But, more importantly, he invests time in integrating this technology into the workflow of the weight room. Ramsey expresses the importance of not just bringing tech, but being able able to take advantage of it. So, let's look at how Ramsey does this everyday.
Integrating Technology
With so much technology available and tech trends at the forefront of our feeds, Ramsey shares how he cuts through the noise, "My goal when I built the weight room wasn't to just add tech because we wanted tech. It was, ' What will we actually use and how will it help us exactly?' "
When bringing in technology, it is always best to first think about your workflow and what is important to measure for your organization. Look for technology with a plan in place, otherwise it is easy to be taken down an overwhelming path. Technology can be a tool to use, but it can become a nuisance if it is not managed and integrated properly.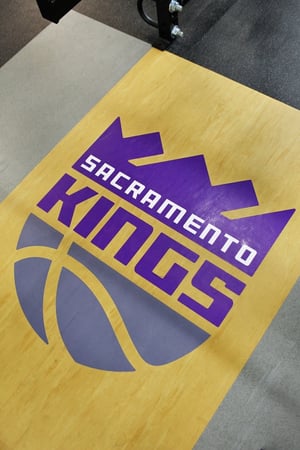 Ramsey was able to start from scratch in a new facility. He had the honor of designing the King's new state-of-the-art weight room. He created a training mecca, a space that excites his athletes each day and a place for opponents to envy. Coming as no surprise, Ramsey put passion and dedication into designing this weight room. Ramsey speaks to this, " I should've taken home or framed the original whiteboard that I drew the weight room on because it was one of those things where I was waking up at like 3 AM with a new idea and then mapping it out. We tried to get logos where we wanted them, and the colors. "
Check out more photos below.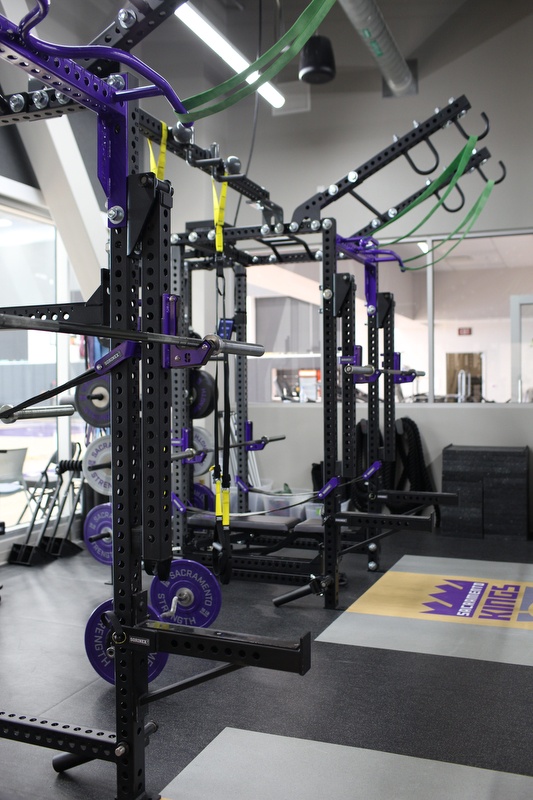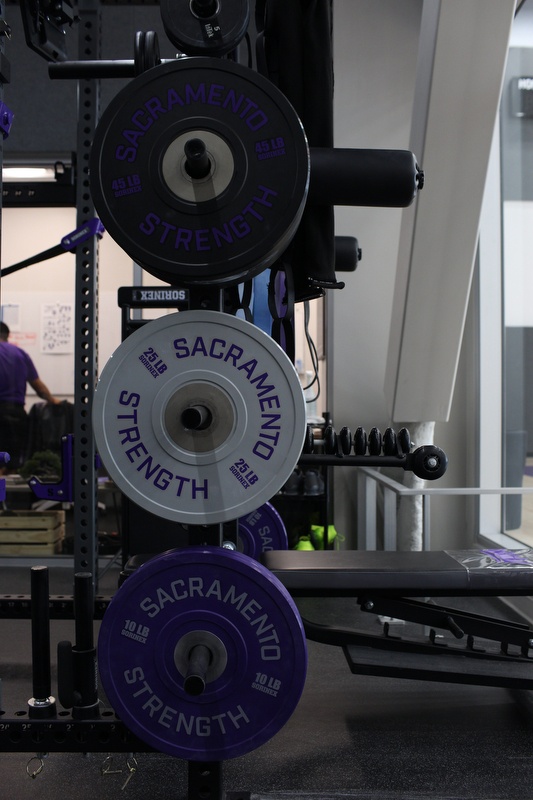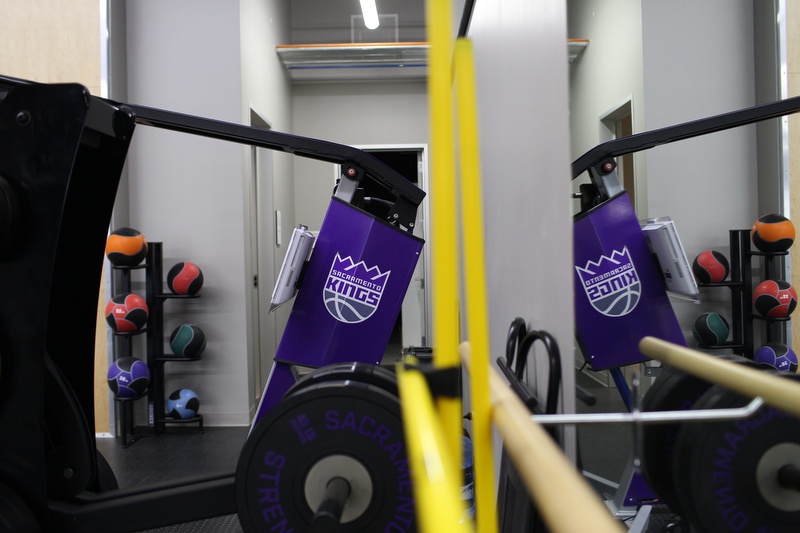 Now that the King's weight room if fully equipped and prepared to handle the team's workflow, Ramsey is able to get his athletes in and grinding each day. Ramsey's wants to create a training culture around loading his athletes in order to prevent injury down the line.
" It's not our goal to make people extremely sore or overdo it, but I think there is some value both in the performance and injury risk side to loading people and giving their tissue some load to adapt to build resilience"
"If a guy lacks internal rotation or he lacks hamstring flexibility or we know that he has weak hips or an adductor like a groin strain in the past, we try to consider all those things and we try to make sure we get those out early and try to add some extra work for those things. And then we get them going with our big lifts. We take pride in loading our athletes."
Stay tuned for our blog part two where we break down how Ramsey is able to develop valuable relationships with his athletes while staying on trend with technology.
About the Author
BridgeAthletic

At Bridge, we are all athletes and coaches first. As athletes, our team has experienced everything from riding the pine on JV, to winning NCAA championships, to competing in the Olympic Games. As coaches, we have helped countless athletes reach their full potential, winning everything from age group section championships to Olympic Gold Medals.
Related Posts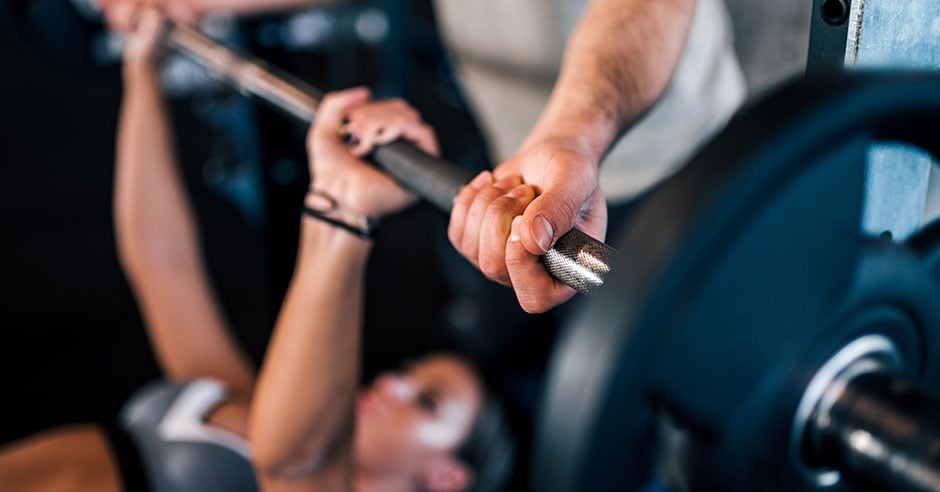 This post is part of our Coaches Corner series with Taylor Rimmer. Taylor is NSCA-CPT, StrongFirst...