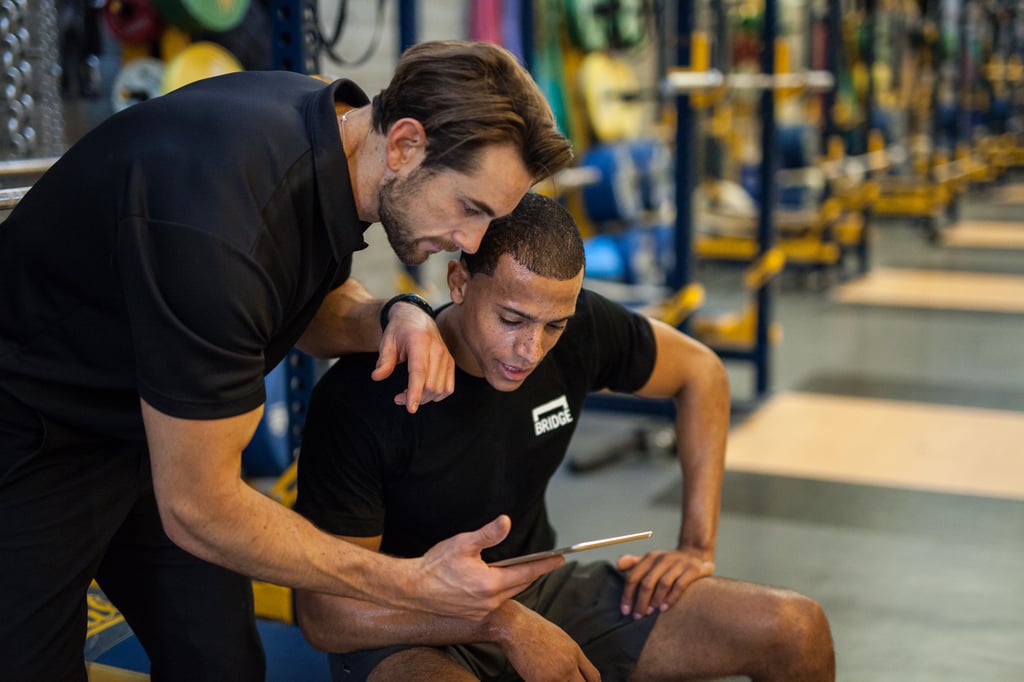 There are many factors that influence athletic performance. Often, strength and conditioning coaches get to witness incremental achievements made both by an individual and by a team in the gym. There is little doubt that a sport-specific strength and conditioning program will always be a key driver of overall success.
To evaluate your team's progress throughout the year, you must always think globally and long-term with your athletes. All athletes will respond differently to training and progress at different rates. Testing is definitely important and must be used to make sure you are doing the correct work, but it is not the final answer. As a good strength and conditioning coach, you must have a long-term periodized program, understand what other demands athletes have on their body and mind, communicate clearly and often with the other coaches, and ultimately build a healthier, stronger athlete.
At Bridge, we recognize it's difficult to keep track of your athletes off the field. That's why we've created features like the Attendance Tracker and Activity Report to help coaches better monitor their athlete's progress and potential distractions day in and day out.
1. The Attendance Tracker allows coaches to easily determine their athletes' engagement throughout a phase. This can better help them assess which athletes are on track and which may be struggling to keep up.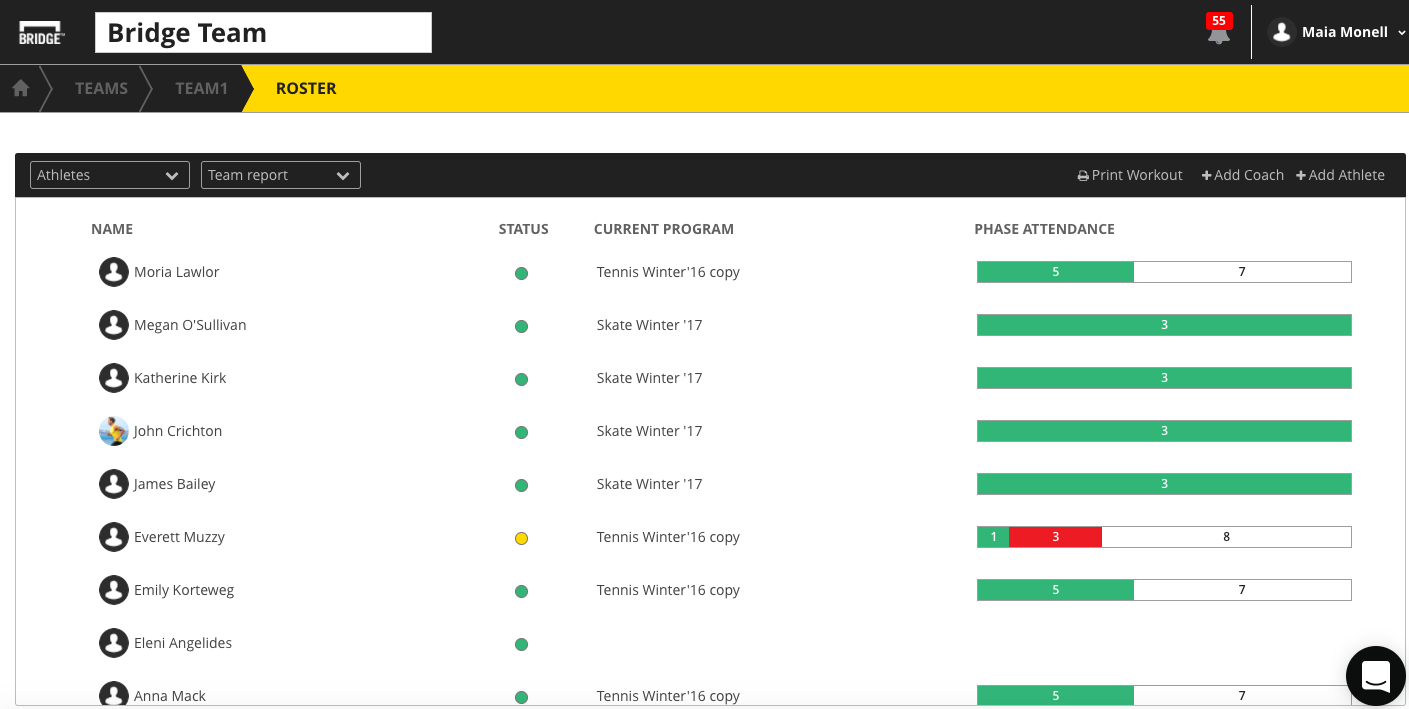 This report is designed to track your athletes' health status and their attendance to help you keep track of your team's engagement. From a quick glance you can now see which athletes are completing workouts and which might have missed a day or two. Combined with the health status update, this information can enable you to quickly determine if and, more importantly, why an athlete is struggling to complete workouts. This can be especially beneficial pre- or post-season when your athletes may not be training with you in person at the gym as frequently. This report can also be beneficial when communicating with sport coaches as it quickly gives a visual report to those coaches showing which athletes are spending the most time in the gym. Additionally, the health status is an easy way for sport coaches to track rehab progress for each athlete to know when to expect them back at practice. Use these features to boost communication between the strength, sports, and training staff.
2. The Activity Report allows you to periodically examine how your athletes perform throughout a program. Along with the standard work sets, you can prescribe 'Tracked' or 'Required' sets to test performance of an exercise during a particular day or across weeks.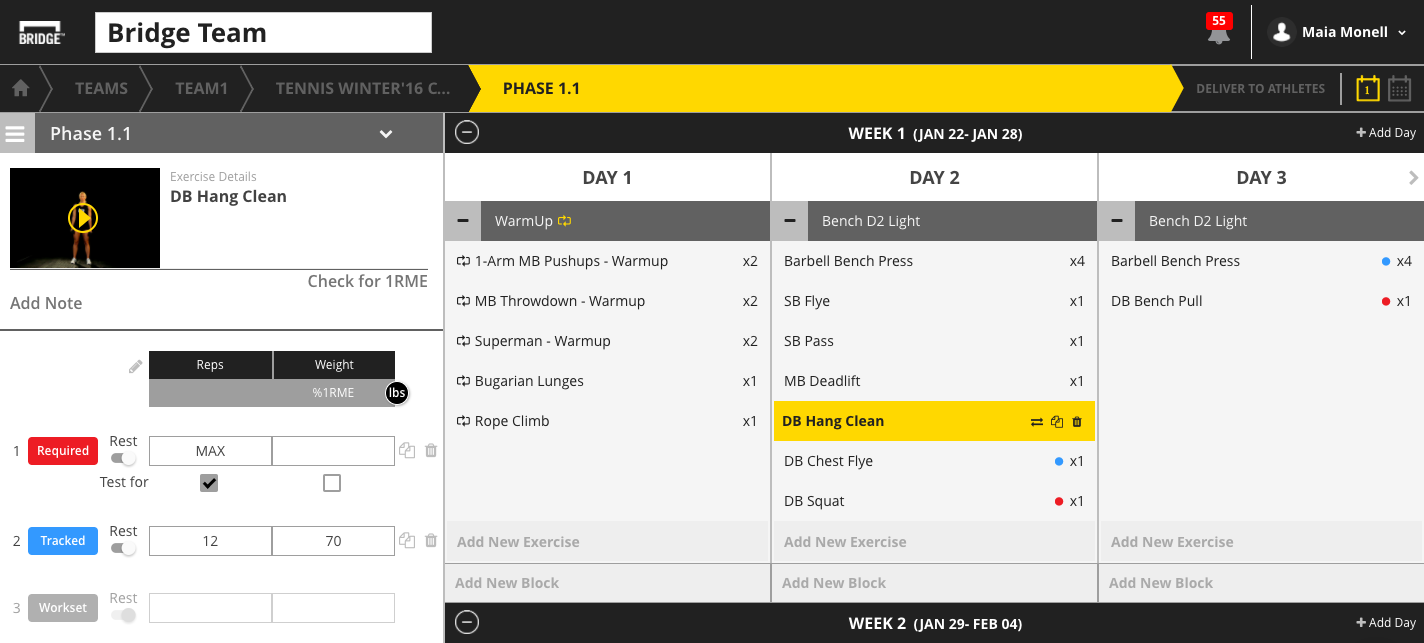 The 'Tracked' set appears to the athletes as a traditional work set without showing that you are tracking the results, allowing you as the coach to examine performance without placing added pressure on the athletes to perform their best like they may feel during a 'Test' set. Acting as a check-in, these sets can be monitored on the Activity Report, allowing you to track your athlete's performance throughout the workout or on a specific exercise. Alternatively, 'Required' sets are visible to athletes and act as a test within a workout to encourage and challenge them.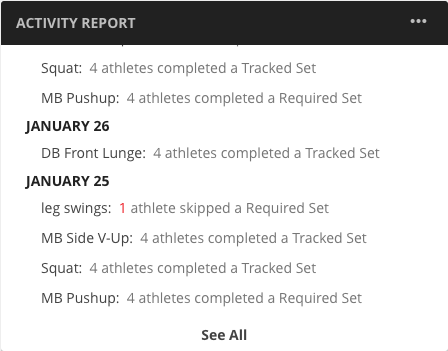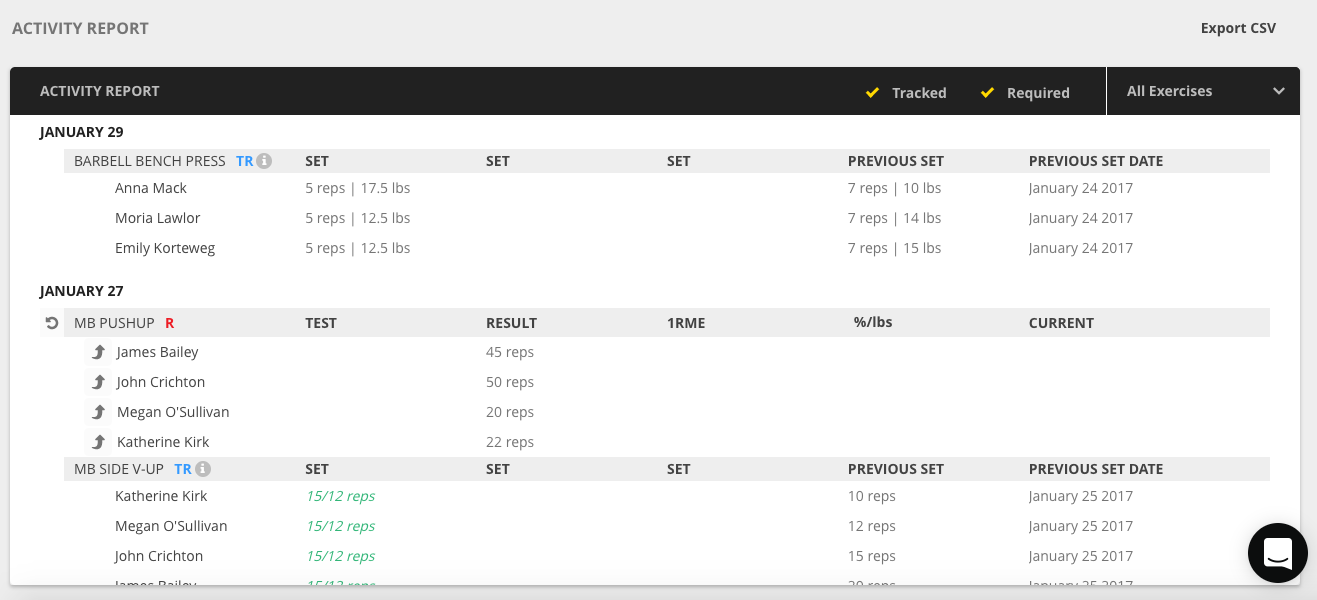 Using this information you can quickly see which athletes are on track, exceeding expectations, or might be falling behind. If an athlete is struggling, the activity report can flag potential issues that might be addressed within the program design or may be caused by off- the-field stressors.
As you can see, the Attendance Tracker and Activity Report are helpful tools to allow you to both monitor participation and to measure your team's success throughout training. Most importantly, these tools make it easy to communicate with your athletes and their coaches. While an open dialogue between coaches and athletes is imperative to a successful year, it can be difficult, especially if some athletes have not progressed in a way you would like. Tools such as Bridge's Attendance Tracker and Activity Report can help you be open and honest with athletes about their progress and the need to improve. If an athlete hasn't trained as regularly as he/she should have, then the testing will likely reflect that. If the results are positive and show improvements, let them know they are on the right track. After all, the number one rule for strength coaches is to keep athletes as healthy as possible! To read more about ways to improve your strength and conditioning program check out these articles on software programming and 5 key phases of strength and conditioning.
----
Juan Pablo Reggiardo | Performance Specialist
Juan Pablo joined Bridge in 2016 and is in charge of developing all content and educational material for the Bridge's volleyball offerings. He has over 17 years of training experience, from middle school and high school athletes, to collegiate, professional, and olympic hopefuls as well. Prior to joining Bridge, Juan Pablo was a collegiate sports performance coach for 12 years. He's worked at both Stanford University and Louisiana State University with both school's Men's Basketball, Women's Volleyball, and Golf programs. While with the women's volleyball program he was part of four national championship runs, including a championship title. Juan Pablo also works at a non-profit center for adolescents, The Riekes Center for Human Enhancement in Menlo Park, CA, where he directs their outreach programs and speed development programs.
His certifications include NSCA-CSCS, NASM-PES & CES, TPI Golf Fitness Pro, USAW Club Coach, USA T&F Level 1 Coach, FMS Level 1 Certified.
Topics: Performance Trends, Sports Technology