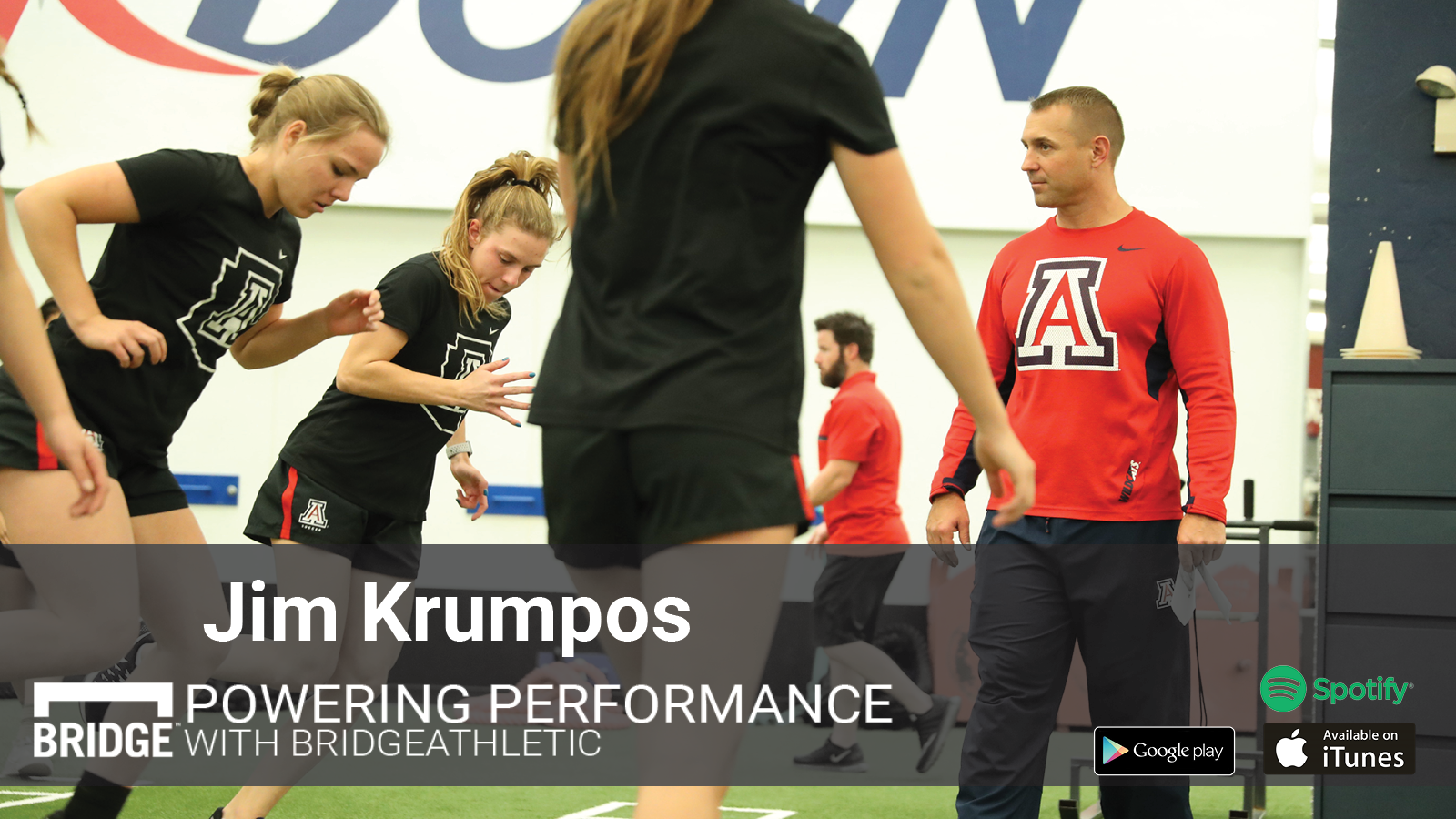 In our sixth episode of Powering Performance, we sat down with Associate Athletic Director of Sports Performance at University of Arizona, Jim Krumpos. As a Masters Coach, Jim has what it takes to mold the bodies and minds of any athlete to make him or her perform faster, stronger and longer.
Check out these spoilers…
Find your balance in Year 1
"You're there to help the coach… ensure you get what the coach wants done in that first year….and do it in a way that doesn't interfere with what you want done."
Developing a well respected relationship across every department at Arizona is a key component to Jim's success. He's established valuable trust amongst his fellow staff members and across the sports teams which has allowed him to quickly develop his career. His lasting advice for those just starting at a new organization? Make the relationship a top priority in your first year. Get what the coaches want done while also implementing your own work. Be diligent and keep record of your athletes' successes and milestones through that year. Monitoring at this level will allow you to go to coaches after that year, prove your method is effective and that you respect their plans and desired outcomes. This will show them you have what it takes to help them get their team where it needs to be that following year.
Online Training
"I wanted to be able to help more people in an efficient way...it's been a great way for me to help general pop to other teams all over the country. It allows you to have that interaction with someone who you may have not had access to."
Jim's found a way to advance his career in the collegiate environment while also operating a tremendously successful online business. Does does this while also making time for his wife and two children. Sounds impossible? Not if you develop a strategy that will help optimize your workflow both with teams and for your other business. Jim recommends focusing your slower seasons on building out a comprehensive training methodology which will allow you to prescribe online training without compromising your day job. He uses tools like Bridge to both deliver training remotely and to better communicate with those he can't see everyday. He also uses Bridge at Arizona which allows him to spend less time analyzing work, spend more time with his athletes and get home in time for dinner.
Key Takeaways:
1.Be fueled by those around you
Jim and his staff all work together to make sure each of their 500+ varsity athletes gets exactly what they need, exactly when they need it. He's focused on finding the best coaching talent to help everyone improve their coaching skills. Creating a positive environment also improve athlete buy-in and trust so take time to keep up with every impact on your athlete's day.
2. Focus on what they need
Training any kind of college athlete comes with its own set of fascinating challenges. Training teams with a short offseason like baseball- makes for an even more unique strategy. Jim's advice? Focus on what they need, let them recover, get away from the field and into the weight room to rebuild and re-engage.
3. Find your niche
Jim's found success in the online fitness world by focuses his 'brand,' and showing clients his unique value. The industry's become saturated with a variety of different plans (many of those free), so how do you find your in with a paid subscription? Educate your audience on the true impact of your work and if you're what they're looking for, it will become a no-brainer.
Work with Jim:
Participate in his clinics and events throughout the year from his website:
JK Performance Solutions | jkperformancesolutions.com
Looking to train like the pros?
Jim provides online training for athletes and enthusiasts from his training website:
jkrumposfitness.com
Facebook | Instagram | Twitter
JK Performance Solutions | @ jkperformancesolutions | @ironcats1
Thanks again to Jim and the entire University of Arizona team for choosing Bridge to help power their performance!
Topics: Powering Performance