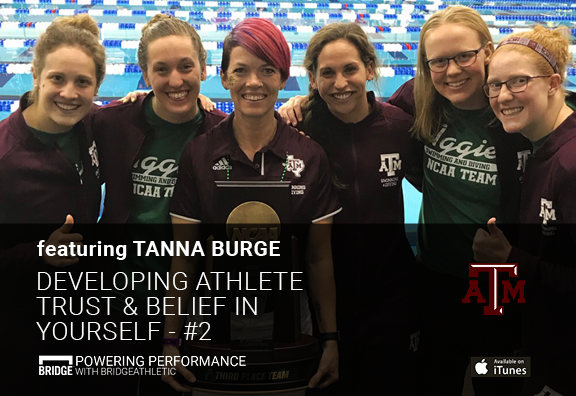 In our second Powering Performance episode, we caught up with Texas A&M's Assistant Athletic Director of Sports Performance, Tanna Burge.
With 20 years of experience coaching collegiate & military athletes, Tanna's one of the top performance innovators in the industry. From covering her methods for monitoring athlete movement and recovery to thriving within a male-dominated profession, we'll dive into Tanna's unique methods and uncover the mental fortitude that continues to drive her success. Whether you're new to the industry or a life-long vet - you won't want to miss a minute of this episode.
Check out these spoilers…
Building trust with each athlete
"We gain trust with the athletes because they know we are all communicating and working together."
Together with her team of coaches, therapists, nutritionist, and psychologists, Tanna is focused on creating an environment centered around communication and trust. In the episode we unpack the many components that structure her athlete's tenure at A&M. From pre-season training freshman year to advancing towards an experienced training age, trust is strengthened at every step along the way.
Navigating a gendered profession
"I didn't allow there to be a difference between me and any other coach. I didn't accept that anyone would even see me differently."
As one of the few female performance coaches, we asked Tanna about her role and the evolution of gender within her profession. Tanna attributes her success to not only unique experiences, as there were some bumps along the way, but also to her determination to always be the best. Just as she requires her athletes to strive for excellence, she too is dedicated to working harder and learning more so that she is always considered the best candidate for the job.
Key Takeaways:
Trust in the process: "I'm not going to put you in a position where you're progressing too quickly. More isn't always better, it's just more." Tanna is hyper focused on movement. Her athletes must (must!) be able to move well before they move more. While some injuries can never be prevented, she's determined to give her young athletes their very best chance at a durable athletic career.
Don't get hung up on the numbers: "We want success to be wins and losses, but there's so much more that goes into it." As she values having access to every tool that will help her train more effectively, she recognizing there will never be one key metric that defines success. Instead, adaptability is key to implementing a strong training culture.
Research, Read, Repeat: "If you don't know the in's and out's of your sport- go research it. Go ask the coaches- the sport coaches love that!" There's no doubt that Tanna is a life-long learner. She takes the additional time to thoroughly research and analyze every aspect of her athlete's experience to best support their development. You don't have to have played every sport- you just have to ask the right questions to understand the impact it has on an athlete.

Follow Your Path: "Own your unique perspective" The word doubt isn't in Tanna's vocabulary. She'll never let fear or trepidation discourage her from success. In this episode she advises how young coaches can bring value to an organization from their very first day.
Thanks again to Tanna and the entire A&M staff for choosing Bridge to help power their performance!
-----
Connect with Tanna:
Twitter
@TannaBurge
Topics: Powering Performance