The Single Leg Wall Sit is a natural progression from the regular Wall Sit and the fourth exercise of our Single Leg BW Squat Progression.

Exercise 4: Single Leg Wall Sit
Bridge Tip:

Add this in to your single-leg progression once you have mastered the 1-Leg Box Squat.
Tips:
Start seated against the wall as you would for the regular Wall Sit. When comfortable, raise one leg and place that foot on your opposite knee. Press your belly button into the wall to keep your back flat against the wall throughout the prescribed time. Remain here for the prescribed time, then return the raised leg to the ground before standing up slowly. Switch legs and repeat for the prescribed time on the other leg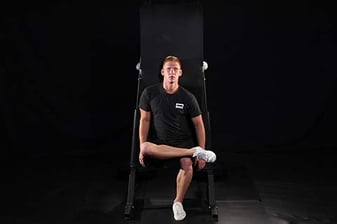 More Building Blocks:
Check out more from our building Blocks Series.
Download our e-book to receive an in-depth look at our full August Building Blocks!
Day 1: Split Squat Hold
Day 2: BW Split Squat
Day 3: 1-Leg Box Squat
Summary:

Want Feedback? We're here to help. We highly encourage you and your athletes to share videos and pictures performing
the exercises.
Use #BuildBetterAtheltes i
n order to receive feedback and guidance from one of our elite coaches on the BridgeAthletic Performance Team.
Be sure to check back tomorrow for more Building Blocks!
Topics: Performance Trends