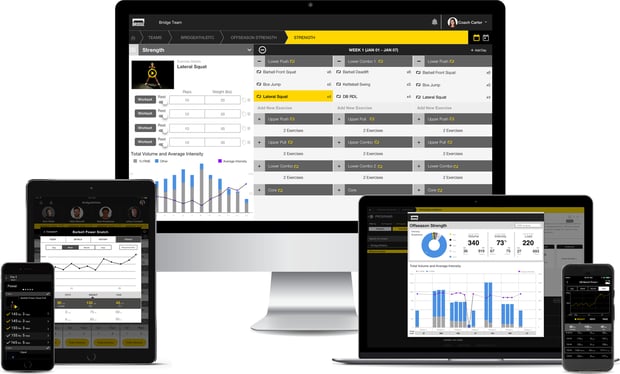 The ability to track your athletes' progress and evaluate your program thorought the season is at the center of BridgeAthletic's software for strength coaches. While mapping results across many seasons is crucial to your team's success, having the tools to communicate and examine your programming can serve as an equally important factor when assessing results and planning your next steps. The BridgeAthletic software for strength coaches not only allows you to track your athletes' success, but the analytical features enable you to compare those results to the composition of your programming.
Program Analysis
Once you've built your program, the analytical features will allow you to examine your work and see if the periodization and progression you've accounted for coincides with your athletes' everyday work in the weight room. This feature focuses on 3 factors: the volume, intensity, and load built into your program.

Program Analytics Figure 1
Not only does this view allow you to examine the average volume, intensity and load across the program, it also shows you these maximums, minimums, and averages broken down by each phase.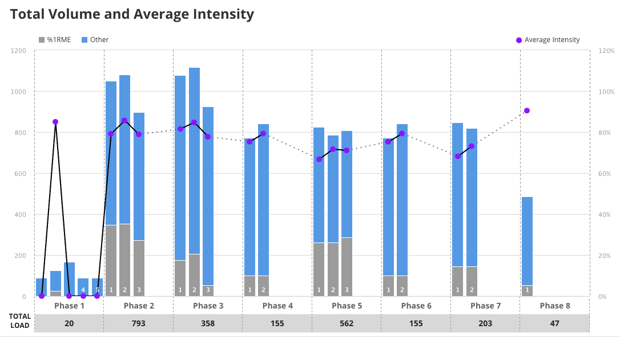 Program Analytics Figure 2

Program Analytics Figure 3
As you can choose to measure weight from multiple different factors such as absolute load, body weight, difficulty and 1 rep max equivalent percentages, you can similarly choose to view the averages of these prescriptions from this analytical view.

Program Analytics Figure 4
The program analytics feature allows you to evaluate your program at the beginning, middle or end of the program's life cycle. For instance, say your team is nearing the end of the program and you are planning the upcoming program. Your current program maintained a focus on introducing fundamental strength work and attaining a baseline for strength from which to work with going forward. You can look back at that program using the program analytics tools to ensure what you set out to accomplish was indeed met, allowing you to move forward to your next program, focusing on power and velocity for example.
Phase Analysis
Similar to the analytics features found on the program level, the phase analytics tool offers a deeper insight into your program's purpose across weeks. This can be particularly useful when tracking and evaluating an athlete's performance as it allows you to compare that performance against the composition of their assigned program. If, for instance, your athlete is progressing with little difficultly across the first week of your Strength and Speed phase, you can refer to this report to analyze the intensity of the load progression to see whether or not such intensity should be increased in the following weeks throughout this 5 week phase.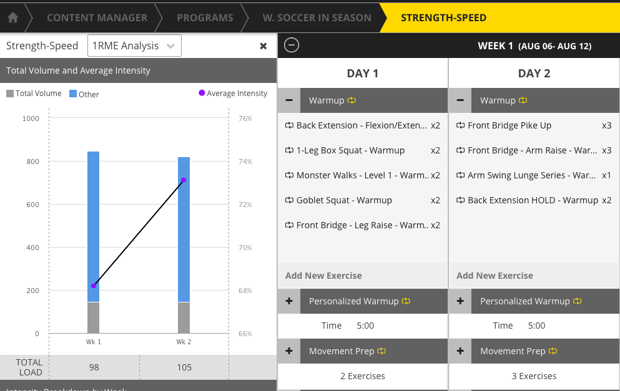 Phase Analytics Figure 1
Ultimately these analytical tools will allow you to easily assess, demonstrate and compare the intentions, projections and impacts of your strength and conditioning content. With BridgeAthletic, you will more quickly and efficiently create, deliver, edit, and evaluate programs for any number of athletes across all variations of training goals. To read more about software for strength coaches check out these articles about digital programming and editing on the fly.
Topics: Performance Trends, Sports Technology