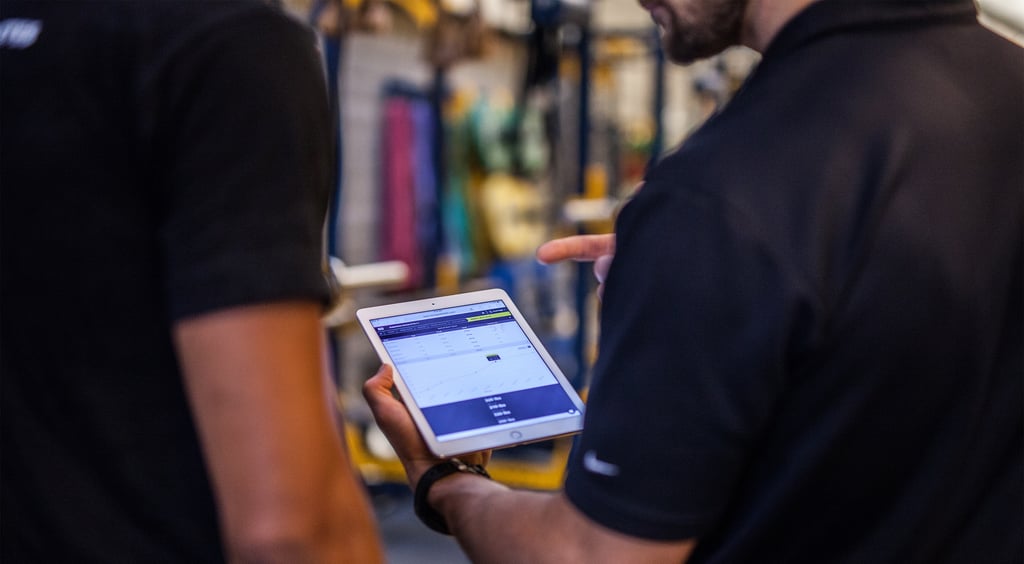 As coaches, we know how important it is to keep track of athlete performance. While it used to be time consuming or just plain difficult to track everything each of your athletes do in the weight room, BridgeAthletic's interactive analytic features simplify this piece of coaching, allowing you to track effort, collect test data, and update maxes seamlessly, with a few simple clicks.
Setting Up Your Tracking
The Activity Report allows you as the coach to collect, examine, and utilize data from the weight room to adjust your players' workouts according to how they progress throughout the season. This report can help you monitor attendance, track progression, and ensure your athletes are putting in the effort they need to succeed. The Activity Report collects information based on Tracked and Required sets. Instead of having to review every set that your athletes complete, you can bookmark certain sets while you are designing the training, sending the results to the Activity Report. You can also use Required sets to update athlete test data.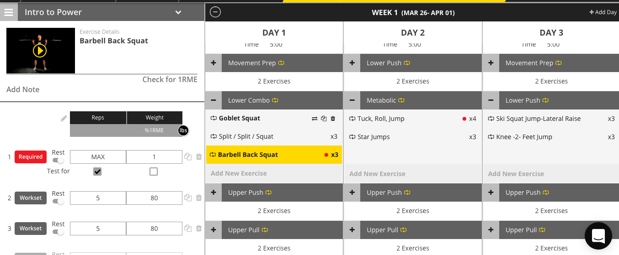 For instance, say you would like to collect 1 rep max squat results for your athletes. Simply add a Squat exercise to your athletes' workouts for the day and make one of the sets a Required set as shown in the Builder above (more on the training design & building functionality here). The Required Set acts as a test set and asks your athlete to input their own results for this max squat test as shown in the athlete experience below.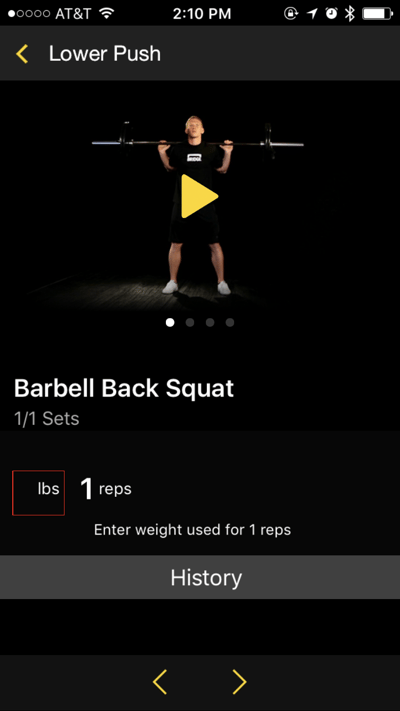 Once your athletes have completed their workout and entered their results while training, you can navigate to the Activity Report and see how well each athlete has performed. Simply choose the update icon (circled below in red) next to each of their names to use these results as their new Squat 1RME.

Tracked sets are similarly used to monitor athletes' progress throughout the year. However, Tracked sets are sets that you would like to monitor without notifying athletes that there is anything different about them. You can specify the set type as Tracked when creating your exercise sets. In the mobile and iPad applications, this set will appear as normal to the athlete. For instance, say you'd like to track how much effort athletes are putting in toward the end of their workouts or just want to compare results across your team without the pressure of a test set. Now you can see these sets in the Activity Report by using Tracked sets.

These tracked sets will now allow you to compare the current test results you've collected for your athletes to how they are performing day in and day out. Instead of just measuring progress with test sets weeks apart, you can have insight into which athletes are making the most gains and which athletes need more individual attention. Tracked sets are designed to give you more clarity and make your program more agile, allowing you to respond to individual needs sooner.
BridgeAthletic software for strength coaches enables them to efficiently track athlete performance. This interactive data collection in real time allows you to better communicate the relevance and importance of your S&C training. Data from these sets feeds into the Leaderboards module to increase accountability and healthy competition both in the weight room and out on the field. The BridgeAthletic Activity Report gives you versatility, improving your ability to monitor and respond to athlete performance. For more information about software for strength coaches check out these articles on programming and editing.
Topics: Performance Trends, Sports Technology