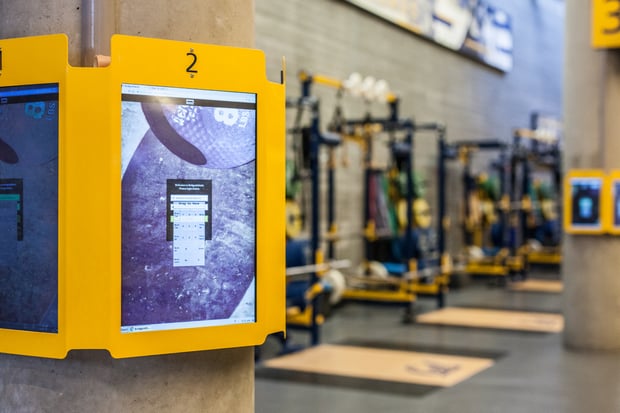 BridgeAthletic's strength and conditioning software leverages the power of technology to revolutionize the way coaches create, deliver, and track athlete training and progress. The integrated platform serves as a central hub for a team's training and communication needs. In addition, the digital platform allows coaches to improve training personalization, exchange information related to performance and readiness, and track physical achievements. By combining technology with performance, coaches are better able to understand individual needs, limits, goals, and the capacity of athletes. Ultimately, leveraging strength and conditioning software revolutionizes athletic training and optimizes game day performance.
Trusted by coaching staffs across professional sports teams and top collegiate athletic departments, the BridgeAthletic platform is used by the:
| | | |
| --- | --- | --- |
| | | |
| | | |
| | | |
| | | |
| | | |
The BridgeAthletic strength and conditioning software allows coaches to:
Upgrade from inefficient Excel or paper training programs to a digital platform and world-class program builder that organizes all athlete training information in one place.

Efficiently create dynamic programs from the built-in movement library or add custom exercises that give coaches more time to spend on the floor with their athletes. Programs are personalized for each athlete based on their sport, position, age, gender, ability, and injury history. To read more about program building check out this article.

Guide and train with athletes remotely when necessary. Video clips and specific notes ensure that athletes are keeping up with workouts and performing exercises thoroughly with correct form.

Track and analyze data from the weight room to adjust players' workouts according to how they progress throughout the season. Coaches can visualize their team's progressions for every exercise as well as each player's performance history and personal bests. Reports can help coaches monitor attendance, track goals, and ensure athletes are putting in the effort they need to succeed. To read more about tracking performance check out this article.
Testimonials
Across the board, BridgeAthletic customers have seen huge success by using our platform.
"Technology is an important aspect of how our organization operates. In the last year, we have adopted technology to design, deliver and monitor athlete training. BridgeAthletic has become a key technology component of our weight room. As soon as an athlete walks into the weight room, their individualized training plan displays on large monitors. We then track the athlete's progress in real time, which empowers our training to be more adaptive to the individual athlete's performance needs."

Ramsey Nijem and Evan VanBecelaere, Sacramento Kings Sports Performance

"BridgeAthletic is truly designed for Strength Coaches. Its versatility and ease allow me to do away with many other programs and processes. Now I'm able to spend more time working with my athletes and less time organizing information. With the mobile and tablet apps, I can reach my athletes anywhere and collect their results in real time. I would recommend BridgeAthletic for any strength coach. Not only will it make your life easier and save you time, but it will improve your ability to monitor and train your athletes."

Brian Jordan, Sports Performance Coach at Authentic Performance and former MLB Strength & Conditioning Coach
Recap
BridgeAthletic's strength and conditioning software allows coaches to become more efficient and personal with training that gives teams a competitive advantage on the field, court, or pool. While the traditional pen and paper method is becoming increasingly outdated, strength coaches are digitizing their program to stay ahead of the game.
Topics: Performance Trends, Sports Technology