Happy New Year! Hopefully you rang in 2016 with your kind of celebration! The holidays are a great time, but can be killer on the training schedule. Here's a metabolic circuit workout to give you a boost of energy and a full body workout and get you on track for the new year!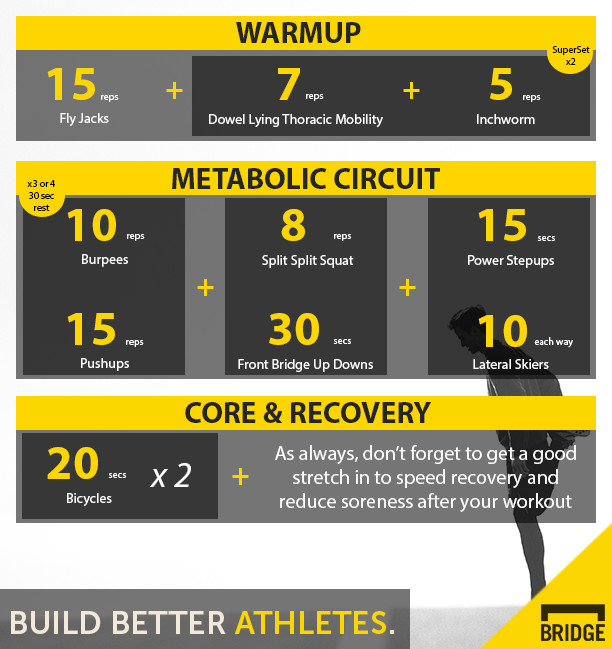 If you like our Workout of the Week articles, check out our newly launched General Fitness training program! Get 3 personalized full workouts each week to help you meet your fitness goals this year! And for a limited time, use promo code RESOLUTION and get 20% off!
Warmup Set:
Fly Jacks - 15 reps

Dowel Lying Thoracic Mobility - 7 reps
Inchworm - 5 reps
Metabolic Circuit:
[Repeat 3-4 times, 30 second rest after full circuit]
Burpees - 10 reps
Pushups - 15 reps
Split Split Squat - 8 reps
Front Bridge Up Downs - 30 secs
Power Stepups - 15 secs
Lateral Skiers - 10 each way
Core Set:
[Repeat 2 times, 10 second rest]
Bicycles - 20 secs
As always, don't forget to get a good stretch in to speed recovery and reduce soreness after your workout!

Topics: Performance Trends