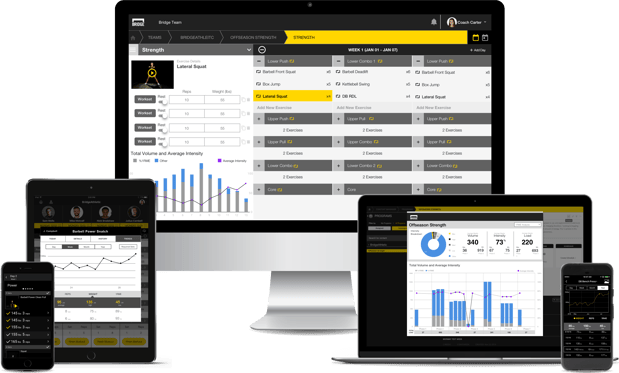 Every day we hear championship stories about how BridgeAthletic's strength training software is helping coaches and athletes achieve their goals and overcome obstacles. By making coaches more efficient, the department more connected, and athletes' development more accessible, the BridgeAthletic strength training software takes athletic programs to the next level. These stories motivate us to build better athletes in all sports around the world. Featured in this #BridgeBuilt Series is Jordan Webb, the University of Notre Dame's Associate Strength and Conditioning Coach and Head of Sports Science, who talks about the success his team of coaches and athletes has using BridgeAthletic's platform.
BridgeAthletic and Coach Webb
"The BridgeAthletic athletes showed significantly higher gains."
Whether it was working with the Seattle Sounders, the Oklahoma City Thunder, or currently working with the Fighting Irish, Jordan Webb has had tremendous opportunities coaching elite athletes. With 9 years of professional experience, Coach Webb is always looking for ways to improve as a strength and conditioning coach and sport scientist. Over the summer, Coach Webb joined the #BridgeBuilt coaching community to efficiently build, deliver, and track his athletes' performances while away on summer break. The implementation of BridgeAthletic technology was seamless and Coach Webb says, "My athletes were able to catch on fast. The ability for us to record our own exercises, the ability for my athletes to record videos to send back to me, and the ability to communicate within the app was really useful and powerful." In addition, he was able to track athlete data and see which athletes were putting in the hard work during the summer. Coach Webb continued, "You could see the athletes that actually did the work."
Technology in the Weight Room
"I want my athletes to move well before they move fast."
Coach Webb recognizes that his players are student-athletes and understands the importance of balancing academic, athletic, and social life. His philosophy is simple: "I want to support behaviors that will not only make my athletes successful, but also make them better humans. Once foundational behaviors and fundamentals are set, implementing technology into programs will enhance [their] athletic performance." He wants his athletes to move well before moving fast, and by adopting technology in the weight room, he is able to get insights and statistical information of how his athletes are progressing as individuals and collectively as a team. In addition, technology in the weight room allows coaches to efficiently connect and be on the same page. Coach Webb believes it is essential that coaches understand the technology and data they're gathering so they can communicate progress with the rest of the coaching staff. Webb says that using technology in the weight room is, "Less about physical enhancement and more about maintenance." Coach Webb is able to use technology to identify behaviors that lead to overtraining, "For example, one female soccer player drove herself into the ground and by keeping track of our conversations, we were able to use numbers to drive her and make her more successful."
Streamlining Communication
"The great thing about BridgeAthletic is that it hits a lot of different athletes at a lot of different places."
As a strength coach, communicating with athletes of all levels is essential for a team to be cohesive and successful. For Coach Webb, it is important to streamline programs to make sure all athletes' needs are met, and that each individual program, "Hits a lot of different athletes at a lot of different places." Webb says, "Our top athletes have a lot of experience, my middle athletes need supervision, and the next level needs engaging lifts." Using BridgeAthletic was beneficial for Coach Webb and he saw dramatic improvements across his teams, especially in his high-level female athletes that don't typically like the weight room. Webb notes, "With BridgeAthletic, they enjoyed checking things off after they finished to see what they completed and how far they've come. I thought it was great that they had such a positive experience and the ability to send videos and communicate correct movements was really beneficial." Using technology and tracking data provides a collaborative environment and offers coaches deeper athlete insight and the ability to effectively communicate.
Efficiency Gains
"BridgeAthletic can meet coaches and athletes where they're at and support their training needs."
When managing and coaching hundreds of athletes at once, a strength and conditioning coach will only be successful when they are efficient with their time. Coach Webb says, "BridgeAthletic is by far the most similar experience to programming in excel…and that's a good thing." BridgeAthletic's software successfully meets the needs of Coach Webb's strength and conditioning program as he states, "I was able to easily build my progressions and workouts." Coach Webb adds, "I've looked at almost every other programming tool out there, and I've found that BridgeAthletic is by far 2-3 steps ahead of all others." Strength and conditioning coaches must be flexible and able to quickly adapt programs, and technology provides an efficient tool for edits on the fly. In addition, the tracked data and tracked sets in the BridgeAthletic platform make Coach Webb more efficient and provide a similar experience to what he is used to seeing.
Recap
Whether it's effectively designing individualized programs or streamlining communication to build better athletes, Coach Webb and his athletes are taking advantage of strength training software. With tracked results year-round, these athletes are training smarter and performing better come game time. To learn more about how strength and conditioning software will revolutionize training programs, check out this article.
Topics: Performance Trends, Sports Technology