Welcome to the fourth week of #BuildingBlocks powered by BridgeAthletic. This pullup progression utlizes a combination of body weight, machine, bilateral and unilateral exercises to help you achieve your goal of performing a pullup.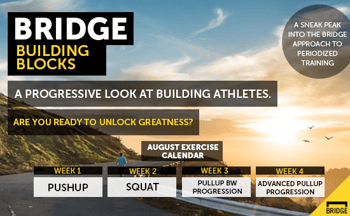 Exercise Introduction:

The first exercise in the progression is a Seated Cable Row. This exercise allows athletes that struggle to pull their own weight to progress safely towards the pullup.

Exercise 1: Seated Cable Row
Tips:
Sit on the bench, knees bent, holding the cable handle just above your knees. Feet are hip-width apart, knees bent, chest out, back flat. Without using a backward sway, pull the handle to your midsection, squeezing your shoulder blades down and together. Pause. Return slowly to start position.
More Building Blocks:
Want more Building Blocks?
Download our e-book to receive an in-depth look at our full August Building Blocks!
Summary:

Want Feedback? We're here to help. We highly encourage you and your athletes to share videos and pictures performing
the exercises.
Use #BuildBetterAtheltes i
n order to receive feedback and guidance from one of our elite coaches on the BridgeAthletic Performance Team.
Be sure to check back tomorrow for more Building Blocks!
Topics: Performance Trends