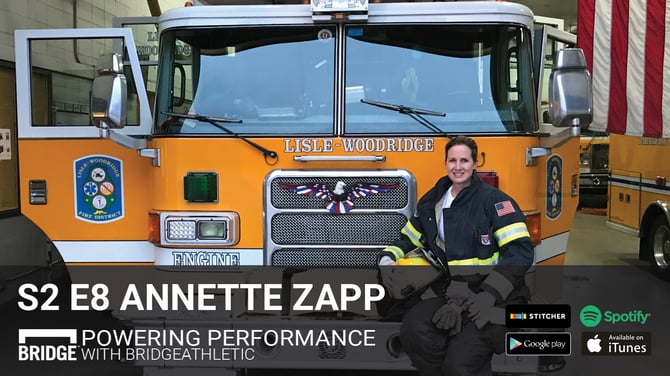 In our eighth episode of season 2, we sat down with Firesqfitness Strength and Conditioning Coach, Annette Zapp.
Tune in to hear about Zapp's journey as a firefighter lieutenant and her methodology in coaching firefighters.
Check out these spoilers…
♦ 1:06 -3:52 Background on Zapp. From her start as a Personal Trainer and becoming a firefighter to the creation of her business Firesqfitness where she currently coaches firefighters.
♦ 3:55- 9:48 Some key differences between training firefighters and training the general population.
"Firefighters have very distinct traits, by nature they're savors, but they're not use to other people saving or helping them. So since they are savors and they always take care of other people they do a poor job of taking care of themselves. Even accepting help from a coach sometimes is hard for them."
♦9:50-13:40 Zapp shares with us about the campaign, Devote December, a campaign to raise awareness around firefighter suicide. Learn more at @firesqfitness
"For about the last decade more firefighters have been dying by their own hand than any other line of duty death"
♦13:53 -18:30 Zapp speaks to her holistic approach to training and her methods to best connect with the firefighters she is coaching.
"I ask them, what is that you want to be able to do that you can't currently do. And for some of them it will be as simple as, 'I want to be able to get up and down off the floor to play with my grandkids' "
♦ 21:40 - 27:20 Strength and conditioning is not yet a main priority at fire departments however, Zapp is working to change this.
"I think if we can get fire departments to buy-in to strength and conditioning it's the next best thing."
♦ 27:38 - 30:55 Zapp shares the methods she implements to bring her firefighters from sympathetic dominant to parasympathetic dominant.
"Firefighters are alpha, they're driven by adrenaline, they're 24/7, 365 sympathetic input. They fail to understand that for their own health and wellness they need parasympathetic input."
♦35:30-end Rapid-fire -Zapp's favorite athlete of all time, what she's reading, advice to her younger self, and a fact you might not know about her.
Connect with Annette Zapp
Instagram: @firesqfitness
Website: firesqfitness.com
Thanks to Anette Zapp for joining us for episode 8 of Season 2!
Topics: Sports Technology, Powering Performance, News