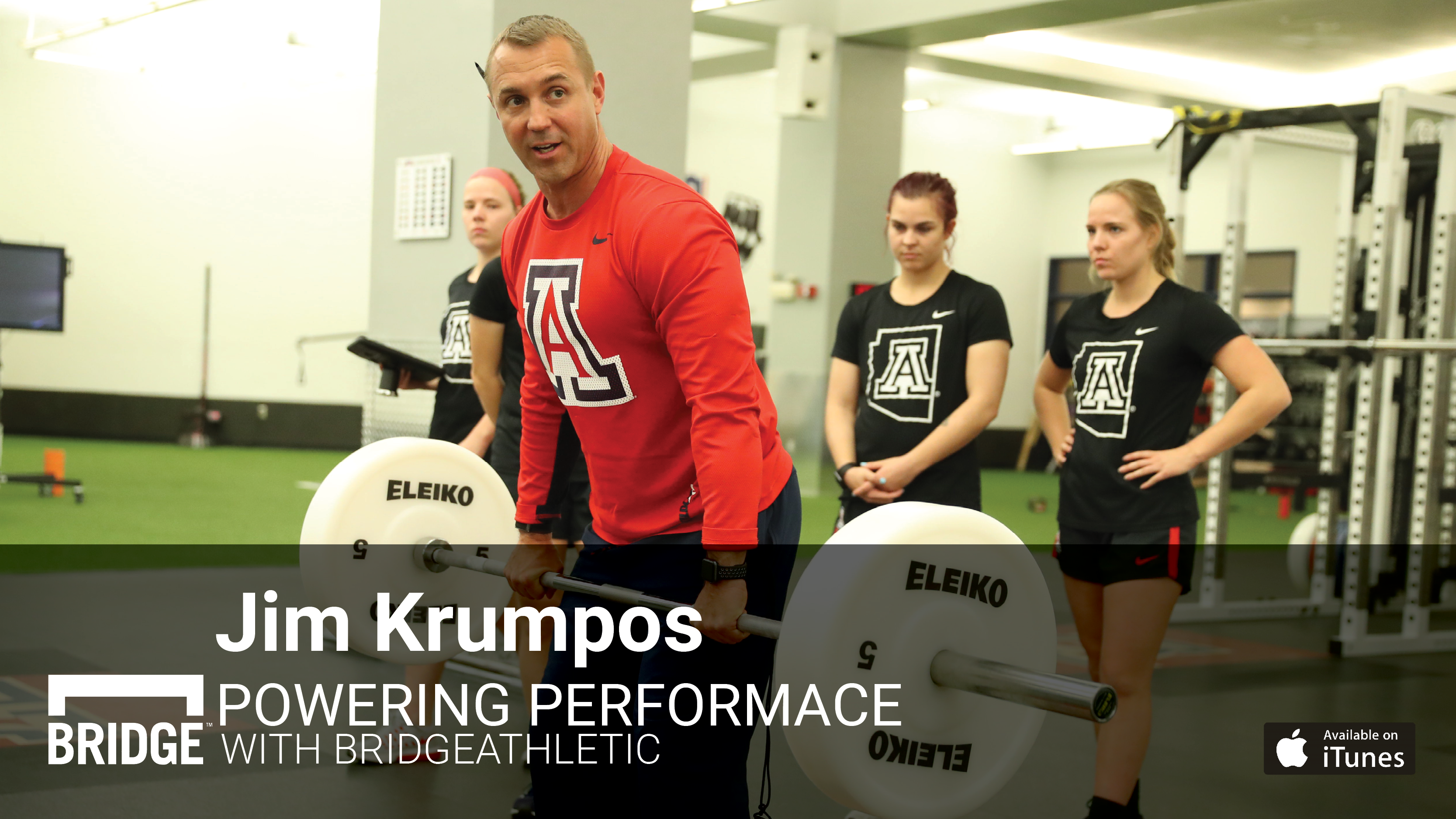 Bringing value to your organization is key, no matter the position that you hold. Jim Krumpos, Associate Athletic Director of Sports Performance at University of Arizona shares his expertise on how he has learned to cut through the noise and provide real, lasting value for each of his athletes and clients.
"I just want to get one centralized hub for everyone I was helping and help more people in an efficient way."
Let's break this down to really understand the process that Krumpos goes through to help both his athletes and clients enhance their performance.
Create teammates in the department
With 500+ student athletes to oversee, having a dependable staff is key. At University of Arizona they keep their athlete to coach ratio small, Krumpos shares that their ideal ratio is 1:20. This way each athlete is getting the personalized attention he/she needs to continue to grow. With a high number of members on staff, ranging from S&C coaches to certified interns it is vital that they all share the same methodologies and ethos. However, as Krumpos knows from his own day of being young and hungry, it is important to allow coaches their own space to develop. This is why he and his staff are constantly bouncing ideas off one another and checking in on plans for programs. With new interns or coaches, Krumpos takes the time to sit down and go over programs they have built out to hone in on skills and make them better coaches each day.
"I don't have to micromanage, we have a great staff here. It is more of providing guidance and bouncing ideas off of each other to make sure teams are being trained the right way"
Find your voice
Along with figuring out the best practices for working with his staff, he also has to practice patience and flexibility. This is especially key when being a new member to an organization. This is where showing your value as well as your dedication pays off. As Krumpos approaches his 7th consecutive year with the Wildcats he considers tips for other young coaches. He suggests you always:
"Remember that you are there for the coach. Get the stuff done that is important to you but also make sure that the head coach is getting what he wants.You need to establish trust. First build a relationship and work on what the coach wants. Then they will rely on your expertise in the future. You can't just stand your ground and try and do things your way. You need to be able to work with the coach."
First, establish your buy in. Building trust by showing your sincere respect for the sport and the coach is key to bringing true value to an organization. Even if your methodologies clash, you need to find common ground so both of your goals and expectations can be met.
Here are a few pointers from Coach Krumpos on coach buy-in:
1. Listen to the sport coach, never assume you know more about training than they do.
2. Track what they ask from you.
3. Make sure you've created a viable way to track progress across the season- especially in the movements they care for most.
4. Schedule time to review this progress after the season. Ask them for their feedback and have a plan to present for the next season.
The value of remote training
Krumpos expanded his training and skill set so he can help even more than those in his weight room. Similar to in person training, developing trust is key with remote training.
"If they feel you have their best interest at heart and you are communicating how what they are doing translates over to improve their performance, they will be receptive of what you want to do together. "
But first, before you can begin building your online business, you need to find solutions to these main obstacles:
1. Addressing someone's fitness level
2. Working with the equipment your client has access to
This can be difficult because what one person has available and what they want to get out of their training can be very different than another clients. Krumpos has a few solutions:
1.Get creative. You will need to have ways to address these different needs.
2. Don't try and address all these different needs.
"Think specific, if you are going to try to appeal to everybody you aren't going to appeal to anybody. So find your niche and do a good job with that."
Krumpos believes one of the best ways to do a good job is to find a tool that you can use easily and trust in its results. Utilize this tool to manage your athletes and make the distance between you feel smaller.
How does Krumpos do this?
He takes advantage of Bridge to keep consistent and effective communication with his clients and teams. Even though they may be miles apart he understands exactly where his athletes are and the work they need to get done. Communication can range from videoing exercises completed by athletes to sharing corrective videos or to messaging about program difficulty and tracking sets and monitoring tests.
"Finding a tool that you are already comfortable with and allowing yourself to have interactions with people you would have never come in contact with otherwise is huge."
Regardless of your goals in the environment, building trust is the key to success. Whether you're building relationships with athletes and staff or finding confidence in the tools you choose to use each day, this trust will allow you to be a more effective coach.
Topics: Powering Performance