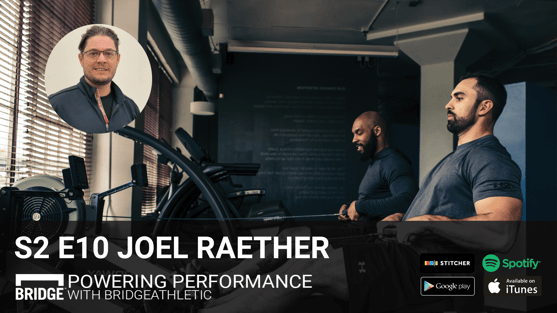 In our tenth episode of season 2, we sat down with 2020 NSCA practitioner of the year Joel Raether, of Fast Performance. Tune in to hear about the evolution of the TSAC-F courses, his experience opening a Premier Facility, Fast Performance, and how his team is responding to closures due to COVID-19.
Check out these spoilers…
♦1:30 - 6:45 Some background on Raether. He shares with us how he got started in Strength and Conditioning and where his 20 year career has taken him.
♦ 7:53 - 12:43 Raether recently launched a Sports Performance Center, Fast Performance in Denver, Colorado. The mission at Fast Performance is to help anyone that walks into the building whether it's to be become healthy, optimize performance or to provide them with resources to feel better.
"The big thing for us is to build a team, a team that understands that there's a synergy that exists."
♦8:15 - 10:40 Raether speaks to how he approaches training different groups of athletes and the different language that is needed when training these athletes.
♦10:45 - 18:07 Raether was apart of putting the first TSAC-F courses together and shares with us how he has seen this training evolve based array of coaches coming through the course.
"Based on how far we have come in such a short amount of time, the beauty of that is now we see in deployment how much more of an emphasis is being put on physical preparedness"
♦22:30 - 27:00 This is a unique time to be running a Premier Facility. Raether explains how him and his team are working to make adjustments in light of Covid-19.
"We are trying to provide guidance to our athletes. Whether that's in home or going out to a park or open space."
♦27:30-end Rapid-fire -Raether's favorite athlete of all time, what he's reading, advice to his younger self, and a fact you might not know about him.
Connect with Dr. Pat Ivey
Instagram: @joelraether
Facebook: Joel Raether
Twitter: @compete4life
Thanks to Joel Raether joining us for episode 10th of Season 2!
Topics: Sports Technology, Powering Performance, News