August 22, 2017 By Lillian Hinrichs
The Formula for Individualized Training
With over 18 years of experience coaching youth, high school, collegiate, Olympic, and professional athletes, Juan Pablo Reggiardo, has always been involved in sports. With a background in physical therapy and strength and conditioning, Coach Reggiardo has worked mostly with volleyball and basketball programs, and has won multiple National Championships with Stanford women's volleyball and golf. We had the opportunity to host a webinar featuring Coach Reggiardo where he discusses how he and the BridgeAthletic Performance Team create and deliver customized strength training for volleyball clubs and players. We talked with Coach Reggiardo about this and how clubs can implement individualized training for multiple teams and athletes of different ages and skill levels. Tailoring strength and conditioning programs based on a player's age, experience level, equipment accessibility, training time, and major tournament dates will contribute to maximizing that player's potential on the court.
The Importance of S&C
"We generally try and find the best path for training during our onboarding process as we find out more about the specifics of each organization we collaborate with, which can be different for every program."
Coach Reggiardo and the BridgeAthletic Performance Team's philosophy for training athletes is simple: reduce the likelihood of injury, improve overall athleticism, and address the physical position-specific demands of a sport.
Goal 1: Reduce Risk of Injury
By having athletes provide their injury history and periodically complete a Functional Movement Screen or similar testing, coaches can gather greater insights to their athletes' movement patterns and show any potential asymmetries that can cause injuries. Improving basic movements, even those like jumping and landing properly, can greatly reduce the chance an athlete suffers a season- or career-ending injury.
Goal 2: Improve Athleticism
The second goal is to improve each athlete's overall athleticism. Since most elite level players have been playing year-round volleyball their whole lives, "not only do they have the same repetitive stresses on their bodies, but they are more likely to be under developed athletically due to only moving and reacting in a few specific ways." Improving overall athleticism is directly related to reducing the risk of injury and is essential for coaches to stay ahead of their athletes' development. Once athletes have a proper foundation, coaches can work to develop their position-specific needs, such as power at the net or agility and quickness.
Goal 3: Position-Specific Physical Demands
The third goal is to address the physical demands of each player's respective position. For example, in volleyball, "hitters, opposites, and middles must be as explosive and reactive as possible to improve their core strength, reduce abdominal strains, and enhance efficiency for transferring power from the floor to striking the ball." On the other hand, "liberos and defensive specialists need the ability to quickly react, make good decisions, and move laterally." Customizing strength and conditioning based on position-specific physical demands must come after a basic foundation is set that reduces the athletes' risk of injury and improves overall athleticism.
Preparing for Individualized Training
"Coaches must be completely bought into the training from the start, understand the importance of the strength program, and know how to implement training to better assist each athlete."
Coaches and directors can prepare their team for strength training by treating it with the same importance as a practice. Coach Reggiardo says, "Include your strength training sessions on your master calendar, plan them out for the whole season, and keep the schedule as consistent as possible, as play allows." Additionally, it is essential for coaches to build a proper foundation of movement, and be patient enough to allow any issues to be corrected before advancing exercises. "We want to start their training with a good foundation of athletic movements, teach them how to load their lower bodies correctly, address their core and hip strength, understand their shoulder stability, and integrate all their movements rather than isolate." Ensuring athletes are moving well and starting with good movement competency will prevent injury down the road and prepare athletes for their new program.
Leveraging Periodization
"At the end of the day, we want to give each athlete and team the best chance to win."
Periodization is defined as the long-term cyclic structuring of training to maximize performance to coincide with important competitions. For BridgeAthletic's Performance team, this means manipulating training variables, such as intensity and volume, to allow the athletes to peak at the appropriate time for the most important tournaments. Considering the goals of a program and the athletes' training age, lifting experience, equipment availability, and schedule, Coach Reggiardo is able to "create and structure the most appropriate season-long training plan for that team, and include regenerative and restorative training sessions around the practice and competition schedule."
Evaluating Progress
"We find that the more the athlete, coach, and team engages on the platform, the more quickly and likely they are to see progress than those who interact less often."
The BridgeAthletic Team Stream and Performance Log give coaches an insight to their athletes' progress. The Team Stream is BridgeAthletic's internal messaging platform that allows coaches to directly communicate with individual athletes. Athletes can send in pictures and videos from exercises and the coach can view and comment on these messages directly from the Team Stream. Coach Reggiardo says, "We want your athletes to communicate any questions, comments, or concerns so we can better help them succeed both on and off the court." This feature allows the Performance Team to capture not just what athletes are doing, but how they are performing each exercise and movement. Additionally, leveraging BridgeAthletic's daily Performance Log allows coaches to access athletes' readiness to train and can give information that may be useful in planning. For example, "At Stanford, we used a very similar performance log that we would have our athletes fill out on a daily basis. As a coach, having more information would allow me to implement the best training plan for that specific day, especially during midterms and finals when student-athletes would be up late studying." Training consistently at an appropriate intensity will determine whether an athlete is successful. As many variables affect progress and results, properly evaluating an athlete's current ability will help coaches prevent injury, evaluate form, and adjust training accordingly.
Recap
Coach Reggiardo and the BridgeAthletic Performance Team create individualized strength training programs based on players' age, experience level, equipment accessibility, training time, and major competitions. The number one goal all coaches should have is to keep athletes healthy and safe, and "have a plan, act smart, and be patient." The formula for individualizing training can be complex, but planning for training, leveraging periodization, evaluating progress, and managing goals will enhance a player's overall athleticism, reduce their risk of injury, and maximize their potential on the court.
About the Author
Lillian Hinrichs

Related Posts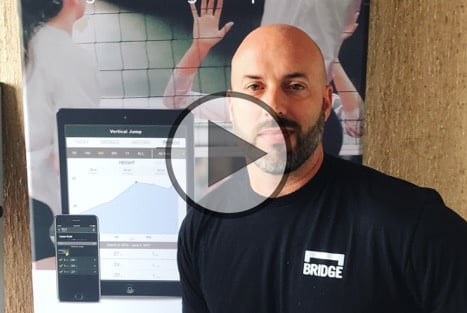 With over 18 years of experience coaching youth, high school, collegiate, Olympic, and...