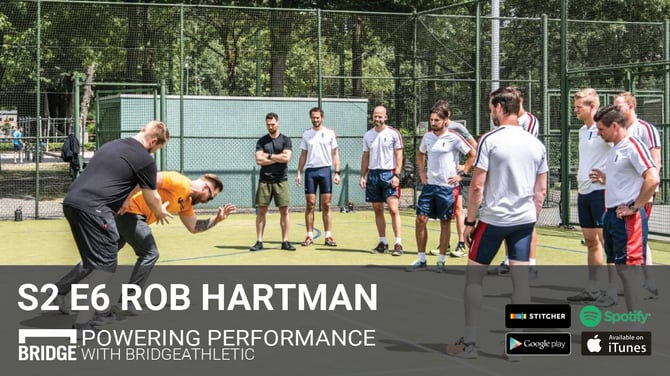 In our sixth episode of season 2, we sat down with former tactical and collegiate strength and conditioning coach and current Director of Tactical and Elite Sport at BridgeAthletic, Rob Hartman.
Tune in to hear Harman's experience training tactical and collegiate athletes, the similarities and differences he discovered and the adjustments he needed to make to best communicate with his athletes.
Check out these spoilers…
♦ 1:28 - 3:02 Hartman takes us through his Strength and Conditioning career path starting from his current roll at BridgeAthletic to his work in Tactical, the collegiate setting and where it all began as an intern.
♦ 3:05-7:45 Working with both ground unit and aviation units, Rob had to be prepared for the different demands of each group. He shares some similarities and differences in training these units, specifically group sizes and injury prevention. However, at the end of the day Hartman says,
"Training is training and people are people."
♦8:02-9:58 Hartman made the transition from the collegiate setting to tactical because of the connections he was making and the demand for experienced S&C coaches.
♦10:02-15:00 The main difference Hartman found in training collegiate athletes and tactical athletes was in the way he communicated with his athletes and the roll he played in their development.
"I needed to learn the appropriate language to use to get the point across."
♦ 15:14-18:41 Data is on the floor. The data on the floor from athletes completing workouts can give the coach on all the performance indicators, so this should be the focus before implementing tests.
"After we realize what we are trying to gain from that testing, we need to take a step back and see if it's deterring us from anything else."
♦ 32:08 - 34:59 Developing connections with your colleagues is one of the best tools.
"If you're not taking advantage of every interaction and relationship you have in the field you're doing yourself a disservice"
♦ 35:22-42:01 Hartman shares about his experience traveling to the Netherlands and working to develop content for the Dutch army.
♦ 41:58-45:02 When Hartman first started in Tactical there was a need for Strength and Conditioning. However, he had to begin to make adjustments because while strength levels were going up, aerobic levels were going down. His solution was to figure out a way to program conditioning efforts similarly to programming for strength efforts.
"We don't want an ability to go down because if an athlete possess that ability we want to assume that's an ability they need and we don't want to take that away."
♦46:09-end Rapid-fire - Hartman's favorite athlete of all time, what he's reading, and advice to his past self.
Connect with Rob Hartman
Instagram: @rhartma4
Website: www.coachhartman.com
Youtube: Coach Hartman
Thanks to Rob Hartman for joining us for episode 6 of Season 2!
Topics: Sports Technology, Powering Performance, News